You're looking for an adventure and know nothing beats a bike. The thrill that takes you away from your daily existence, the wilderness you're embedded in, the escape from the hustle and bustle of the city. KTM bikes are known for their off-road capabilities and incredible performance across many terrains.
Read Also: KTM acquires 25% stake in MV Agusta.
The updates
They have power, agility and precision. You won't run out of adrenaline as you go about exploring new places and experiencing new adventures. The Indian updated edition of RC 125, RC 200, and RC 390 now feature smoked visors which were first showcased with the KTM 390 Duke GP Edition launched last year.
Compared to the current lineup, KTM's three-model RC range – RC 125, RC 200, and RC 390 – remain the same. The macho bikes flaunt a more contemporary face. Besides the unique visor, KTM's three-model range is identical to what was sold here last year. Mechanically, everything remains the same. And so do prices.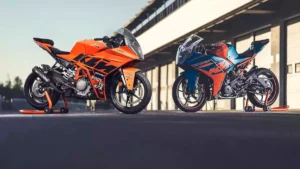 390 KTM Price and more
The KTM RC 125 has a price tag of Rs 1,88,640, while the KTM RC 200 arrives at Rs 2,14,688 and KTM RC 390 at Rs 3,16,070. All prices are (ex-showroom Delhi).
Read Also: KTM Super 2023 Super Duke R 1290 spied.
All three models were updated by KTM last year. The KTM RC range is known for its stellar handling and improved ergonomics.
While the RCs are by no means new, there have been some significant updates to all of them. We ran a few reports and determined that an updated review was necessary. However, now they have garnered much attention with their updated versions that are selling by the dozen.
The updates to the 125, 200, and 390 models stay the same, with new wheels, a new design, an updated engine, a braking setup, and a revised instrument console. KTM sure knows how to balance a bike well.