MV Agusta! The company has filed vehicle identification number (VIN) and name filings with the US National Highway Traffic Safety Administration (NHTSA), which include the previously introduced Superveloce 1000 Serie Oro as well as two new models, the Superveloce 1000 R and Superveloce 1000 S.
The company has also revealed its plans to attend the FuoriConcorso automotive event, which will take place on Lake Como in Italy from May 20 to 21, 2023. It's worth noting that MV Agusta will be the only motorcycle original equipment manufacturer (OEM) participating in the event this year.
Read More : Do we see Hero Xpulse with dual channel ABS?
Preview
MV Agusta will showcase an exclusive preview of the stunning Superveloce 1000 during the event. The presentation will involve Giacomo Agostini, a renowned former motorcycle racer. The scheduled date and time for MV Agusta's presentation is Saturday, May 20, at 10 a.m. in Villa del Grumello.
In general, MV Agusta and motorcycle enthusiasts have something exciting to look forward to with the unveiling of the new Superveloce 1000 model at the FuoriConcorso event.
The presentation of the new Superveloce 1000 by MV and Ago, along with the display of the historic MV Agusta 500cc 72/74 race bike, will undoubtedly be a treat for motorcycle enthusiasts. The FuoriConcorso event will be held on May 20 and 21, 2023, in the Lake Como area.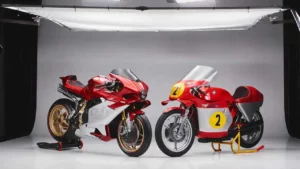 Memorable
The event will be spread across three villas: Villa del Grumello, Villa Sucota, and Villa Olmo. Attendees will be able to see the Superveloce 1000 presentation, where MV and Ago will unveil the new model and share stories from their racing history. This will be a unique chance to hear firsthand accounts from Ago, a legendary figure in the world of motorcycle racing.
In addition to the presentation, the rare MV Agusta 500cc 72/74 race bike, considered the "mother of all racing bikes," will be displayed throughout the weekend. This bike, known for its early advancements in aerodynamics, is a source of design inspiration for the Superveloce 1000. As the theme for the year is aerodynamics, it is particularly fitting to showcase this historical masterpiece.
The event
FuoriConcorso will run from 10:30 a.m. to 8 p.m. on both May 20 and 21, 2023. On May 21, there will be free access to the event from 6 p.m. to 8 p.m. for those interested in attending during the evening hours. Adult tickets for the weekend cost €150 (approximately $163) and grant access to all three villas. Children under 18 can enter for free but must be accompanied by a paying adult.
If you're passionate about motorcycles and happen to be in or near the Lake Como area during that time, this event promises to be a fantastic opportunity to witness the unveiling of the Superveloce 1000 and appreciate the historical MV Agusta 500cc 72/74 race bike up close.
Source : Fuori Concorso and Rideapart