'New' KTM RC 390 previewed in an official teaser video
The KTM RC 390 will soon be getting a brand new version, and we've already seen the bike almost completely undisguised.
Well, it seems like the Austrian manufacturer is looking to tease their upcoming sportbike even further.
A video posted on the official KTM Instagram page shows us what appears to be a short teaser clip with the new model.
Over the past couple of years, KTM's RC 390 has continued to do well in emerging markets thanks to its affordability and the outstanding punch that it packs from its 373 cc single-cylinder engine.
We'll have to see if KTM can improve on that – and how much power this new bike will pack.
KTM teased the 390 for the first time, and we only saw part of its overall design. Today's video shows us a clearer view of the motorcycle, at least a clear shot of the front end.
Whoa. It looks sporty. KTM is already selling a ton of RC models, so that I wouldn't worry too much about this bike taking sales away from the current models.
The new RC 390
The 390 will only supplement it, and I doubt anyone who already owns an RC would pass up the new version for a few extra ponies.
KTM is poised to catch up to Honda and Yamaha in the small-displacement market segment, and we're all waiting to see what other details are revealed.
As mentioned in the title, this new motorcycle will not be a massive departure from the outgoing bike.
It will have the same 373cc single-cylinder engine with around 44 horsepower and a good 26.55 pound-feet of torque.
It should still be just one air-cooled cylinder with WP suspension at both ends.
Elaborating more on the bike's performance, we expect it to be more agile with a shorter wheelbase and a lighter frame.
We can't wait for KTM to officially unveil their new motorcycle because it will likely feature a cheaper price tag than its bigger brother, with some significant weight savings onboard.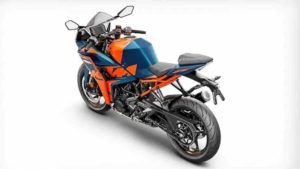 The most significant difference, however, is the new bodywork and colour scheme. One look at the engine gives us our best look yet at what it will be packing under its belly pan.
The new RC will arrive in September, so lets wait for more details.
via Instagram