News: 2020 Africa Twin CRF 1100 L is here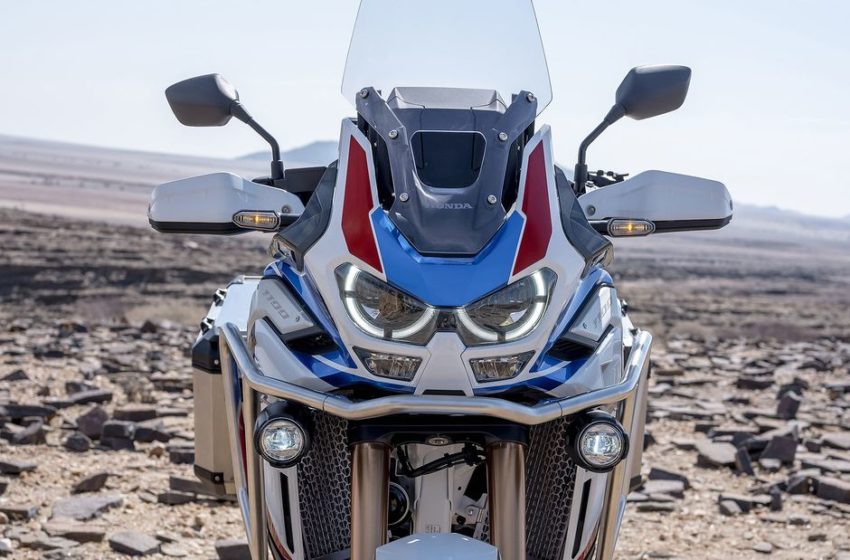 After two teasers. Honda has just made public 2020 Africa Twin CRF 1100 L .
What does it get?
Weight decreases get a new frame and surge in power.
With Euro5 norms coming on the scene it was an ideal proposition from Honda to bring the revised package that is lighter, more powerful and could be used with ease compared to its competitors.
That is what Honda has done here. The last Africa Twin to be updated by Honda was way back in 2016. The rear gets slimmer it also gets the lower fairing.

Power Surge
Power goes up to 102hp at 7.500 / min, the maximum torque goes up to 105 Nm, the stroke is extended from 75.1 to 81.5 mm, updated camshafts, valves are new i.e 46er, the bike also gets amended exhausts and aluminum bushings. new cylinder heads.
The 2020 CRF 1100 L also gets the dual-clutch DCT and weight-optimized gearbox that makes the gear shift easier courtesy updated clutch.
Driving Modes/Wheelie control
The urban tourer is provided with four driving modes Urban, Gravel, Offroad, and Tour those are pre-configured and two modes can be freely configurable.
The new cornering ABS is helpful for both on and off-road. The amended traction control will be more responsive since it gets dynamic control systems with six sensors.The wheelie control can now be disengaged.

Structure 
The next important part is the structure that holds the entire package the new CRF 1100 L gets tubular steel frame with double loop completely made from scratch. The short and straight handlebars will help the rider to navigate long distances.
The new handlebars have saved 1.8 kg straight also the rear frame is made with aluminum. As well the new rear swingarm makes the weight lighter by 500 grams.
 Riders Area
Honda has been reworking on the most important aspect that is Riders Area. Handlebar gets a higher position up to 22.mm. The rider gets a narrow seat by 40mm with a 6.5-inch color TFT speedo capability to communicate with Smartphones with the help of USB, Applecarplay and Bluetooth. Operations can be carried out via gloves as well.
 The new tourer comes with cruise control and also gets a new hazard warning when riders brakes in an emergency. LED higher level dual headlights with LED daytime running lights. A knuckle guard is also standard equipment. A big knuckle guard is optional.

Adventure Variant
Notably, the Twin is also available in the Adventure version. Adventure version is equipped with large size fuel tank capacity to hold 24.8-liter of fuel, tires are tubeless, the windscreen is all extended, handle heater, ACC charger, the rear carrier made up of aluminum, oil pan protection. The suspension is electronically controlled. The adventure also gets four modes that are preconfigured.
Weight
Standard Africa Twin weighs 226 kg, DCT weighs 236 kg, Adventure Sport weights 240 kg and DCT weights 250 kg) at 218 kg payload. Prices were not mentioned.
Prices
Standard Africa twin: $ 14,399 approx. 1,547,600 yen and 

Africa Twin DCT: $ 15,199 approx. 1,633,600 yen.

Adventure Sports ES: $ 17,199 about 1,848,500 yen . ES model comes with EERA.

Adventure Sports ES DCT: $ 17,999 approx. 1,934,500 yen.
Paint Schemes 
Standard Variant: gets Matt Ballistic Black Metallic and Grand Prix Red.

Adventure Sports: Adventure Sports is available in either Tricolor (Pearl Glare White) or Darkness Black Metallic.
It will be released in Europe in 2019 for the United States it will be released in March 2020.
LivingWithGravitys take
Things we like
Thorough homework by Honda to bring this tourer on the scene.

Fuel tank capacity is increased and gets more power.

Notably, a good facelift from Honda compared to earlier versions.

Gets lighter.
Things we don't like
---
See Also
KTM 790 SMC Spotted
Custom : Weird Fish from Paul Milbourn
Patent on Electronic Suspension
WSBK : Alvaro Bautista to stay in WSBK