News : BMW unveils new S1000RR in India with a price tag of INR 18.50 Lakhs (ex-showroom)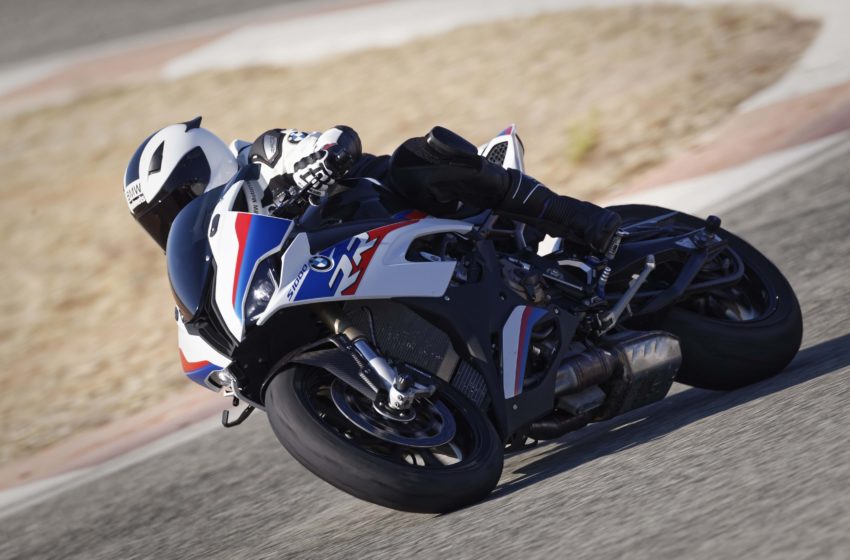 Back in September 2018 since BMW had filed its new patent for its BMW S1000RR i have been writing about the BMW S100RR and updates.Also it was teased in October 2018 with tag called as " Adrenaline Incoming".

Now BMW unveiled its latest weapon in India in NCR, Delhi, India in the presence of Bollywood Star and Actor Shahid Kapoor. Lets take a closer look has to what it gets.
Standard equipment of the new model S1000RR of 2019 model
BMW Motorrad ABS
ABS PRO (cornering ABS)
Dynamic traction control
DTC Willie Function
Hill start control
Riding mode (Rain / Road / Dynamic / Race)
Shift assist Pro (up and down quick shifter)
TFT meter
LED lighting machine
Assist & slipper clutch
Top Specs
4 kg lighter new 4 cylinder engine
152 kw (207 HP) / 13,500 rpm, 113 Nm / 11,000 rpm · BMW shift cam installed. Variable valve timing stroke (new cam shaft on the right).
A torque of at least 100 Nm occurs at 5,500 rpm to 14,500 rpm
Linear torque curve. Improvement of rid-ability and controllability in low to medium speed range.

Dramatically improved ergonomics with

flex

frame and newly developed suspension.Improve handling by refined suspension geometry.Increased traction and obvious feedback in the threshold range are obtained.

Optional electronic control suspended DDC (dynamic damping control) is prepared.

New valve and control technology.

Full Floater Pro kinematics, 300 g weight reduction of the new rear suspension.
11 to 14.5 kg weight reduction from the current, the usual model is 197 kg of vehicle weight (193.5 kg in M ​​package).
New type exhaust system lighter by 1.3 kg.

New riding modes .Standard is Rain, Road, Dynamic, Race.

Pro mode is available as an option. Added three customizable race Pro modes. 

Pro mode

 can customize DTC, ABS, Willie control, throttle curve (torque adjustment), engine brake control etc individually.

Launch control in professional mode, adjustable pit lane limiter available as well.

Full LED lighting machine  and Tail lamp and blinker.
The new 6.5-inch meter realizes excellent readability. Screens for public roads and three race screens (Core screens) are prepared.
Prices in Japan, Germany and in India
2019 model: 15,290 pounds (about 2,271, 1,100 yen)
2018 model: 14,315 pounds (about 212,600 yen) TThe difference is 975 pounds. It is about 144,800 yen.
Ah, surprisingly the price range is low. Even though it changed so much. The current model in Japan is from 2,272,000 yen, but it is a mystery what kind of package the new S1000 RR in Japan is, so it is a mystery whether it simply becomes a price raised by more than ten thousand yen.
M package: 3,500 euros (about 448,600 yen)
Lace package: 1,490 euro (about 190,000 yen)
Dynamic package: 1,090 euro (about 139,700 yen)
In Germany, the price is 18,750 euros. Approximately 2,430,000 yen.
M package: about 2,851, 1,800 yen
Lace package: Approx. 2,594,200 yen
Dynamic package: Approx. 2,542,000 yen
In India, the price starts at Rs 18.05 lakh (ex-showroom, India) for Standard Version, Pro Version will start from Rs 20.95 lakh and Pro M Sport – Rs 22.95 lakh
Approximately, the value added to each package and vehicle price is like this. I think that the price in Japan will rise above Kore.
Availability
It is around the spring of 2019 in Germany. Japan will be late. How long will it be lost is a mystery …
It seems that prices will not rise so much unexpectedly, so this is a good idea.
Looks, specifications, equipment, price and everything are all included .It seems likely to sell a new model.
Official page is here 
This is M equipped with performance parts
M Package
Pro mode
Motor Sports Paint Finish
M Carbon Wheel
M lightweight battery
M Sports seat
M chassis kit (rear height adjustment and swing arm pivot adjustment)
Dynamic Package
Dynamic damping control (electronically controlled suspension)
Grip heater
Cruise control
Lace Package
Pro mode
M Forged wheel
M lightweight battery
M chassis kit (rear height adjustment and swing arm pivot adjustment)
Other options
Alarm system (Anti-theft system)
Single seat cover
RDC tire pleasure control (tire pressure monitor)
Emergency Call