Scoop: Do we see a new Ducati V4 Superleggera?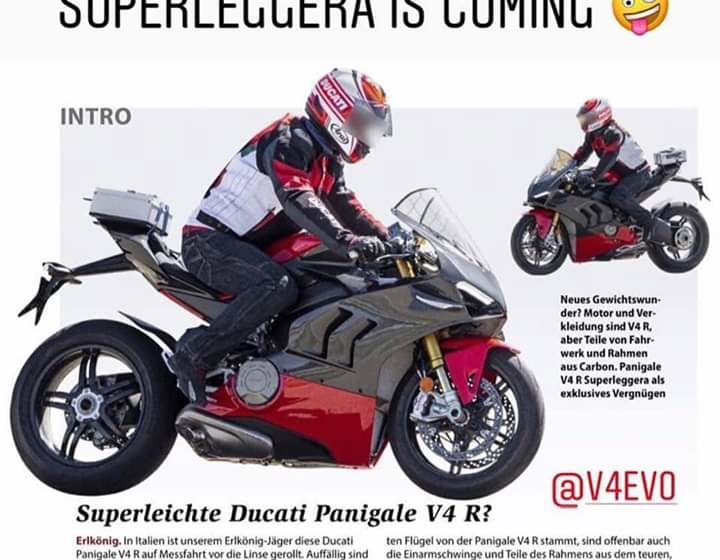 Ducati Slovakia Facebook posted something quite exciting this morning. This they believe is a spy shot of the V4 SL.
What we can see, R suspension, R chassis, 1299 SL wheels( just BST wheels), Carbon fairings, winglets, and that insanely ugly Akra slip-on.
The real questions are, will it be the 998cc V4R engine, or will the 1103cc engine get the lightweight treatment and aim for a 245hp monster. Maybe a carbon fiber swingarm similar to the 1299 SL, $100k price tag?
The current variant of Superleggera was produced with limited to only 500 copies and interested buyers were ready to shell out 80,000 € despite its high asking price.
While Ducati Superleggera has garnered a lot of attention from the motorcycle fraternity. Let's look at few riders who for some unknown reason want to stay anonymous but have expressed love towards Superleggera.
 Rider1
Ducati Superleggera is nothing but beauty. If I could turn back the hands of time, I would save all the extra cash I spent on beer just to look at this bike in my garage every time of the day. Notwithstanding, the bike has proven its worth so far and there is no reason why I shouldn't get one though.
Rider 2
My spouse who is also a bike fanatic and blogger says that as far as superbikes are concerned, there are only two bikes whichever caught her attention and the Superleggera is one of them.
LivingWithGravitys Take
23rd October is the date that everyone is most looking for as Ducati will display its upcoming models. Do we see V4 Superlegerra that still remains the question?
Plus we don't mind if the Ducati increases the limited copies from 500 so that more motorcycle enthusiasts have access to this phenomenal machine.
---
Pic Source: Ducati Slovakia