'Rebellion' by Fred Krugger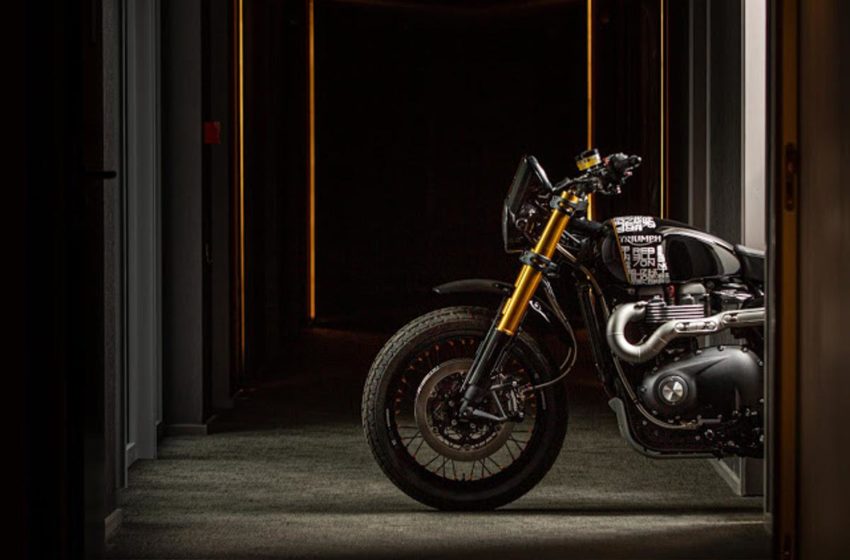 Fred Krugger is a synonym to the name custom. Whether it is a bike or a car Fred does it in style.
We understand Fred is a busy and no wonder after many months we are taking a look at his custom. 
The donor is Triumph Scrambler 1200 XE and the custom is christened as ' Rebellion'.
Rebellion looks stylish as Fred. To add the quintessential appearance the small part on the fuel tank gets the name ' Rebellion'.
However, the name mentioned isn't straight as R E and other alphabets of the word Rebellion are not placed one after the other and it does refer to Rebellion watch brand.
Rebellion watch DNA is clearly visible in Krugger's custom. It is responsible to give a distinct and elegant look.
The front mudguard is pulled up and unlike the traditional Scrambler gets one-sided double exhausts.
Here the exhaust pipes are tweaked and are pulled on both the sides at the rear. 
At the end of the spokes, you can see the touch of golden colour and it looks effective on those black rims.
Beringer brakes were specially made for Krugger. Thumb brake front was added to remove the original rear oil tank.
We are told the engine retains all its legal requirements (in the photo without a license plate holder).
At last, the original Scrambler was put besides Krugger's Rebellion and you could easily spot the difference.
Rebellion not only inspires the custom community but will well inspire the folks from Triumph.
Pictures by Thierry Dricot 
Read More
Splendid custom from Sosa Metalworks
MB001 by Metalbike Garage
Royal Enfield to bring more affordable bikes 
Triumph Japan unveils the launch date of new Tiger 900
Teaser 2 from Moto Morini