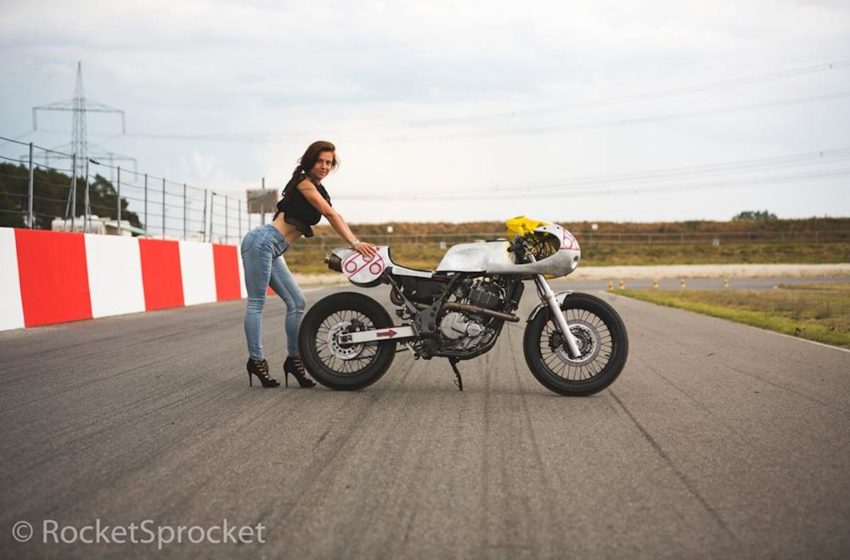 Rocket Sprocket unveils their new custom on track
About Rocket Sprocket
Rocket Sprocket based in Switzerland is a two-member strong team of Andreas Neuhold and his girlfriend, Lisa Christiane. 
Both hardcore motorcycle enthusiasts and near about both have a similar profile picture on their personal Facebook profile page. Well, we don't mind, do we?
Getting to the point Rocket Sprocket is famous for their builds like Rocketeer, Rebirth, Bad Habit, La Bella and many more.
Last year we met Andreas when he was in India and he was talking about this custom and how he envisioned to build something different compared to his earlier custom builds. And this is something that he wanted to do.
What Andreas has to say about his build?
"One way.or another. The Suzuki Freewind was sold as a Fun-Enduro bike like the DR650. And usually, you would build a scrambler but as usual, we don't like the usual stuff and we would always prefer to go unusual ways.
Fairing, tank and rear section are handmade from aluminium, Wilbers Shocks and Beringer parts make this a fun toy for the road! and the track!"
The girl on the cover photo is none other than Lisa Christiane who looks simply stunning with the bike. But we are also paying attention to the bike. Now that being said we would like to give our thoughts about this custom that took several months of efforts.
LivingWithGravity's Take
As team Rocket Sprocket Custom committed about coming out with an altogether different bike. We feel this is it. Fun, Easy and Sensible both on track and on the normal roads.
---
Read More
Triumph Rocket 3 launched in India
Do we see naked Honda Goldwing soon?
Denzel Motors electric Samurai
BMW Motorrad X EL Solitario MC