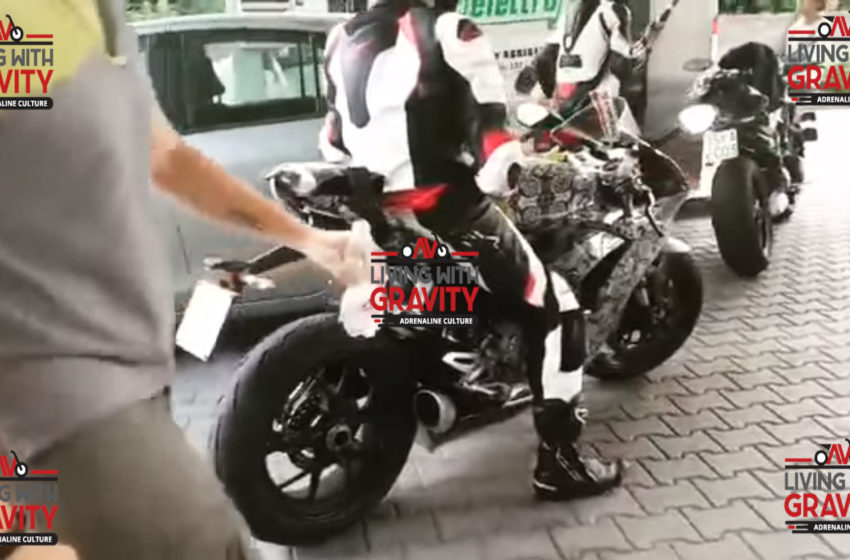 Scoop: Spied upcoming Ducati Panigale 959 V2 and Commercial Version of Streetfighter V4
There are two new upcoming Ducati bikes caught filling fuel. The upcoming 959 Panigale V2 and commercial version of Streetfigther V4.
The exhaust is an under muffler, but it's a little out and looks different. But it is Street Fighter V4. It is almost similar to Panigale V4. This one has a winglet.
 It looks the same as a spy shot before Facebook and a suspension or front fender, but it has a winglet. Is the winglet an option? Or an advanced version? Mystery. That's why there is a possibility that a winglet will be attached to the commercial version. There is a vehicle number here.
Before for V2 AcidMoto had questioned Ducati CEO, Claudio Domenicali and he said that it costs much to come up with V4 architecture.
AcidMoto: Are there any plans for a lower displacement V4 engine?
President: Not clear. V4 is much more complex than traditional V2 and is very expensive to manufacture. A small displacement will further increase production costs.
Also, we may be wrong, so please check with the source. For the V2 Panigale, there were large-displacement models and small-displacement models with the feeling of 1299 and 959, but there seems to be no plan to release such a reduced version for the Panigale V4.
But then if Panigale V2 is not the stripped version of Panigale V4 the question arises here is what is this version?
Ecco qui sul nostro Passo un video spia della nuova streetfighter v4 e forse una v2?Grazie @rinosheppard per il video?#fotocisa #passodellacisa #passocisa #moto #motociclisti #ride #rider #riders #bike #biker #spy #spycam #fotospia #ducati #streetfighter #instabiker #instabikers #bikersofinstagram #bestbike #instagram #motovloger #motovlog #ginocchioaterra

Fotocisa ಅವರಿಂದ ಈ ದಿನದಂದು ಪೋಸ್ಟ್ ಮಾಡಲಾಗಿದೆ ಬುಧವಾರ, ಆಗಸ್ಟ್ 7, 2019
Commercial Version of Ducati Street Figther V4

Upcoming Ducati Panigale 959