Shellios brings an innovative air purifier in the helmets
It's a harsh and unfortunate reality that many riders do not consider their health when riding a bike. Despite the benefits of cycling, pollution is something to keep in mind because it can affect the respiratory system.
Innovative
The air you breathe isn't as clean as you think. Riding a motorcycle is one of the most thrilling experiences you can hope to have. Still, it also gives you proximity to a dangerous element that many people often forget.  
The air we all breathe. And while helmets are designed with advanced visors, padded liners and more to keep us safe in an accident, what about the fact that the very thing we're breathing might just be killing us?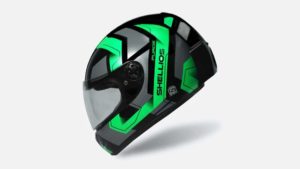 Now, there's a new startup coming out of India that equips helmet wearers with more than just safety. Shellios Technologies is developing a new kind of intelligent helmet that takes care of your health while taking care of your head while you ride.
Wearing a bulky helmet for protection may be unappealing to many, especially in the African and Indian heat, where outdoor activities call for as little clothing as possible. 
H13 HEPA purification system
But Shellios Technologies is looking to solve this problem by incorporating an air purifier into their version of a smart helmet that would be sleek enough to fit any rider's preferences.
The helmet feels and looks like a regular bike helmet. The only difference is that it houses an H13 HEPA air purification system at the helm with a blower fan and a battery pack. 
The device can filter out harmful pollutants from the air with the help and reduce blasts of wind that cool the rider down while travelling at high speed on the road.
Certified for India
For safety, the helmet has fibreglass, a better option than polycarbonate. The helmet gets the Indian BIS certification IS 4151, also known as Indian Standard for Safety Helmets.
The helmet is called the Puros and arrives with a low price tag of RS. 4,500 INR or about $56 with multiple shades like black with green, black with orange, black with orange, and black with yellow.
However, the helmet is available only in two sizes Medium and Large.
Source: Shellios