The exquisite Mercedes inspired custom from Tamarit Motorcycles
"Tamarit does not replicate a bike of their own. However, they wanted to pay tribute to, in their humble opinion, the most beautiful and iconic car ever made. Creamos joyas which means "We create jewellery" ".
 Mercedes 300 SL
Mercedes 300 SL
One thing is for sure at Tamarit's: There are two types of outstanding vehicles, the beautiful and the iconic.
Considering Tamarit, they are the top custom makers for Triumph worldwide, and their bet is to extract the engine-powered treasures.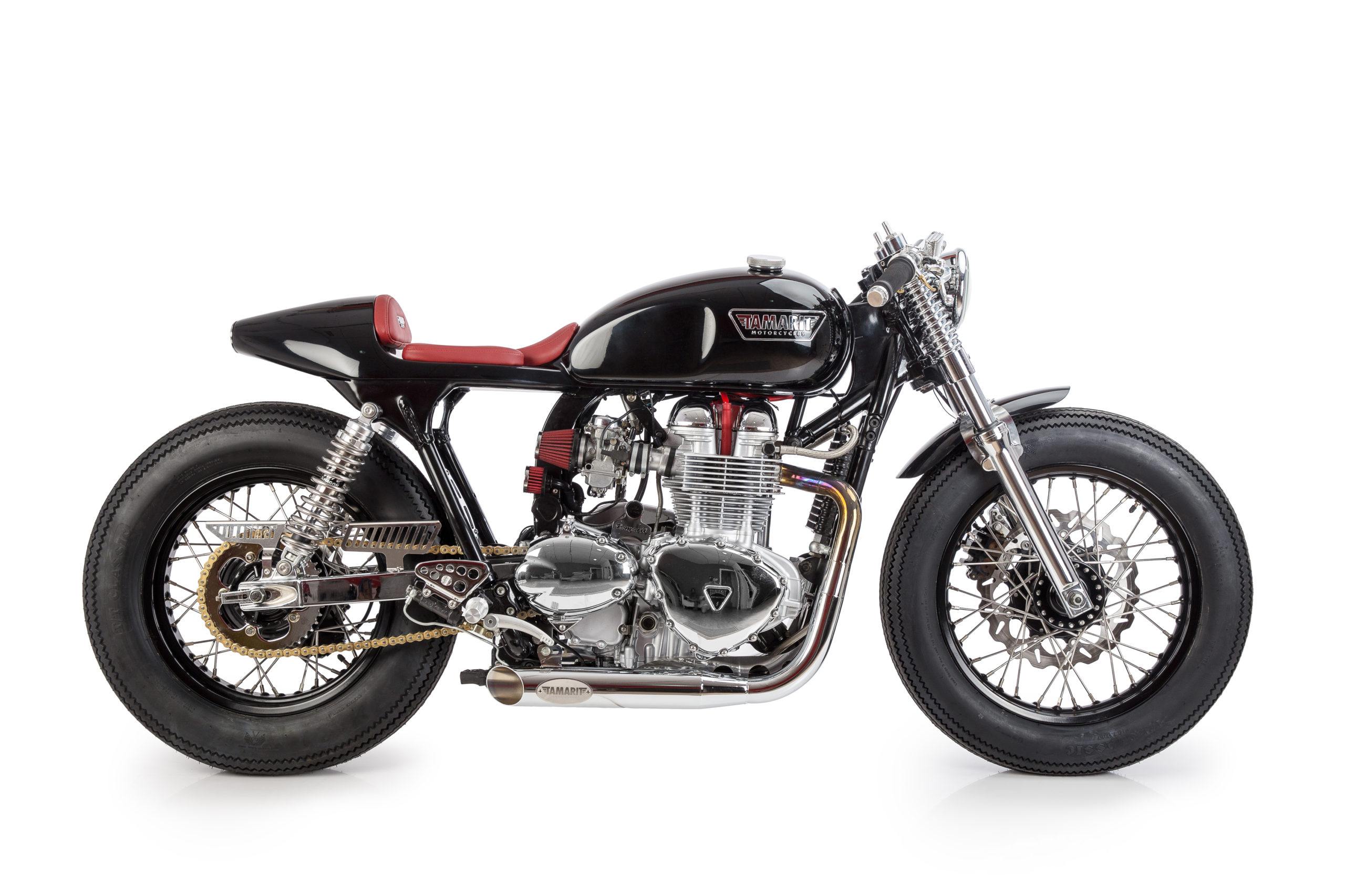 Exotic side angle 
After 70 years, there are very few models in automotive history, and these are still unique and present in immaculate condition and uncommon.
Cars such as the Porsche 911 or a Mini Cooper are models still present. And they have retained the essence even on the most recent models. The spirit made these ancient models icons.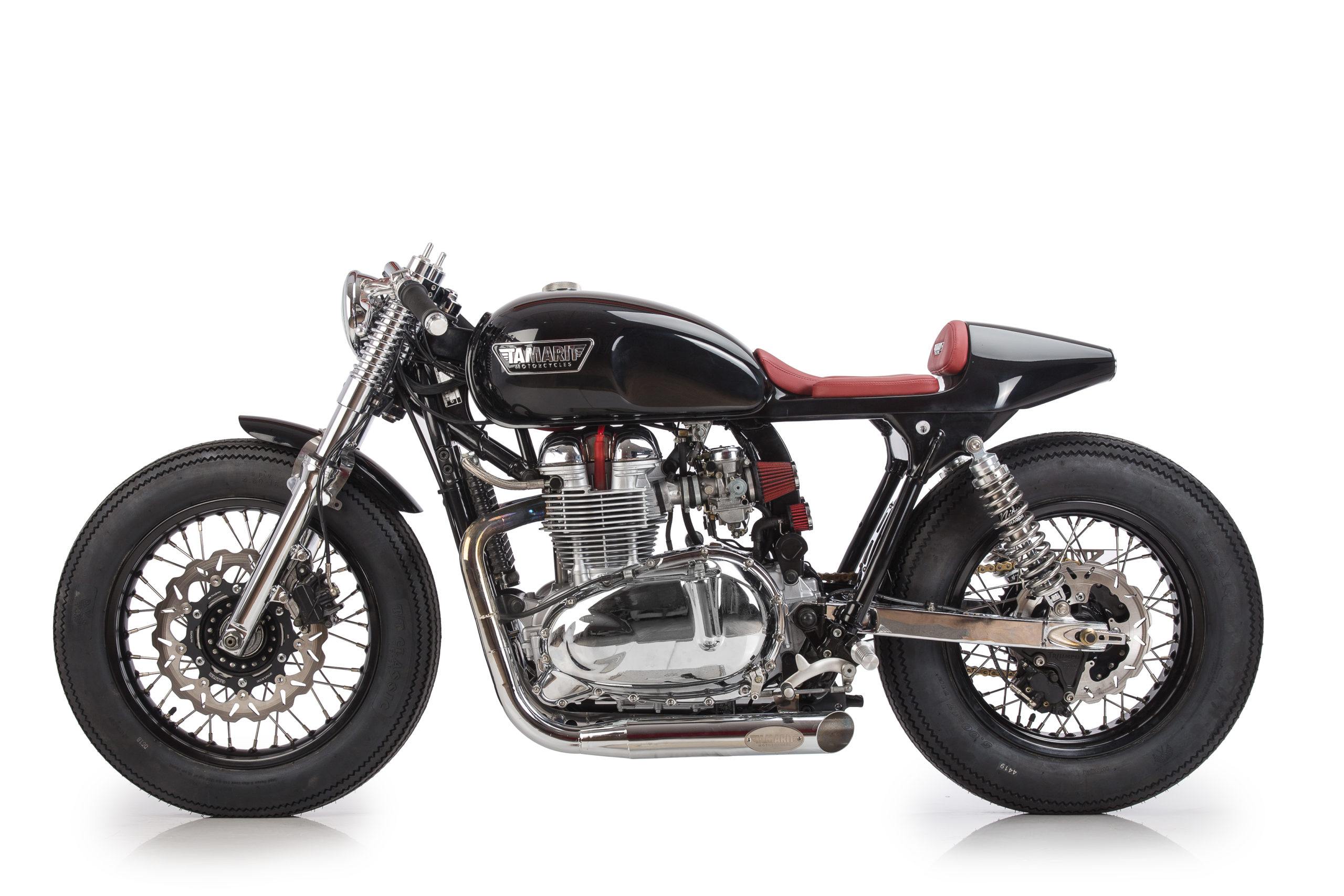 Another glimpse of niche 
The Tamarit Gullwing
"All the members from Tamarit, are huge automotive lovers, and they like the "Gullwings" Mercedes from the 50s. Just breathtaking. The rounded curves of the headlights, the doors opening upwards.
In essence, Mercedes knew how to create an authentic sports car and Tamari not being a car manufacturer, but iconic bikes.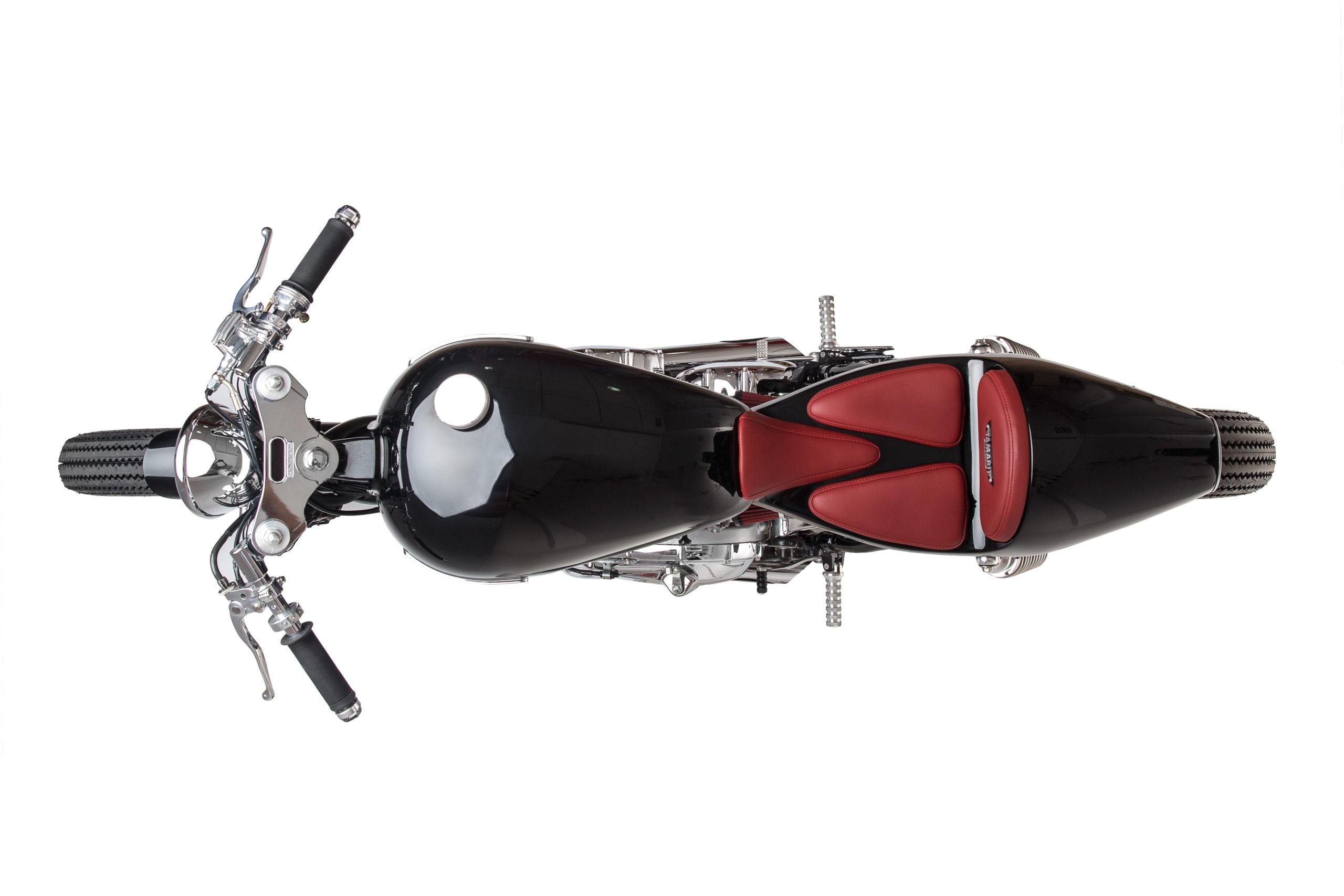 Voluptuous top
We wanted to represent this car in the two-wheeled format with a Thruxton 900 Carb engine. We are here to change las cosas."
The Mercedes 300 SL was one of the first two-seating super sports cars manufactured by Mercedes Benz between 1943 and 1969. It is known for the defining gullwing doors.
Many experts consider her by far the "most beautiful sports car ever created".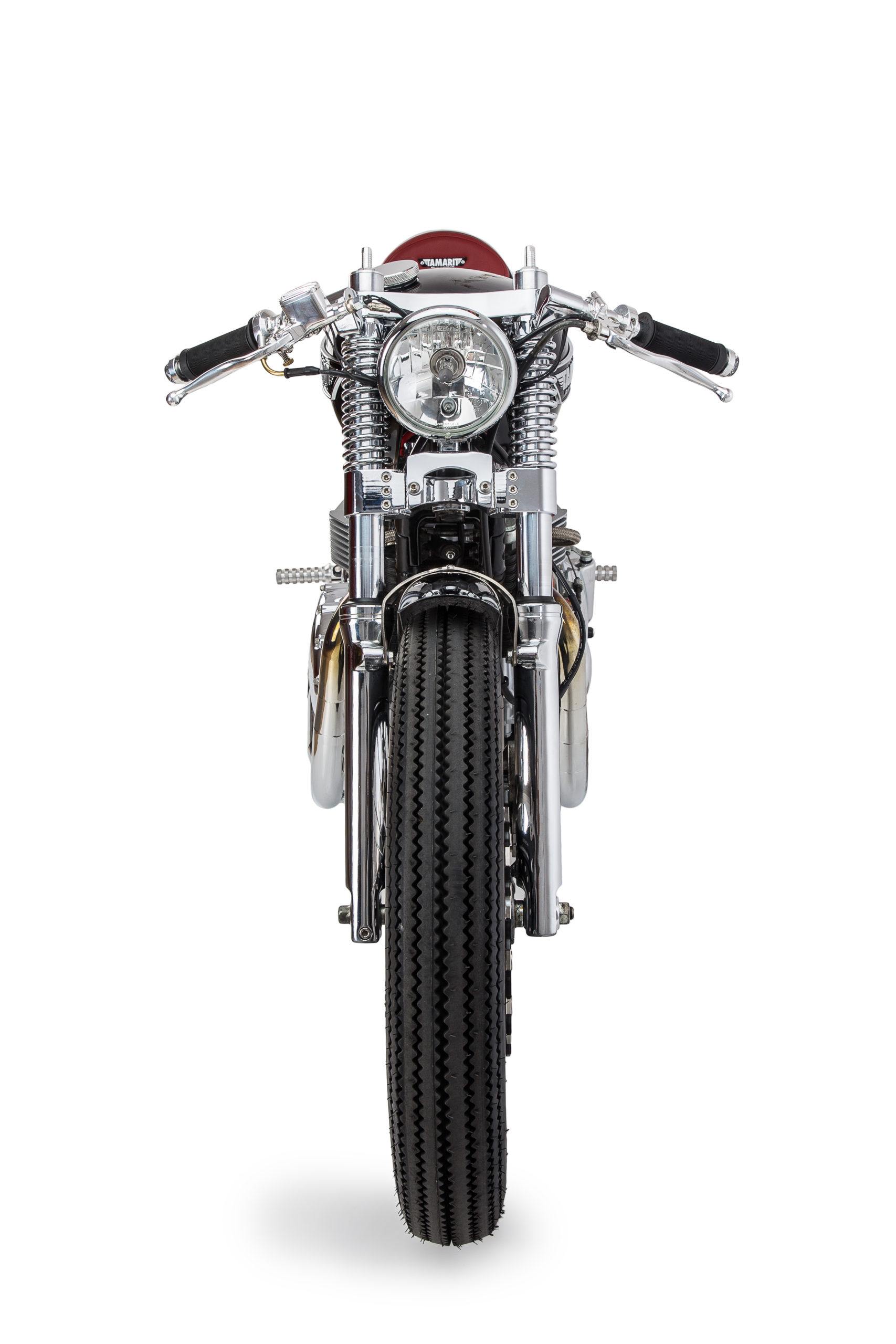 The classic front
How the Tamarit Gullwing was made?
Tamarit Motorcycles blends the passion for the automotive and design to the popular model from Mercedes Benz, to create the Tamarit Gullwing.
To emulate the Mercedes Benz icon, we made the initial round shape sketches of the motorcycle's design. And parallelly, we studied the components of the vehicle, right from the rear doors and the lines that made this car famous.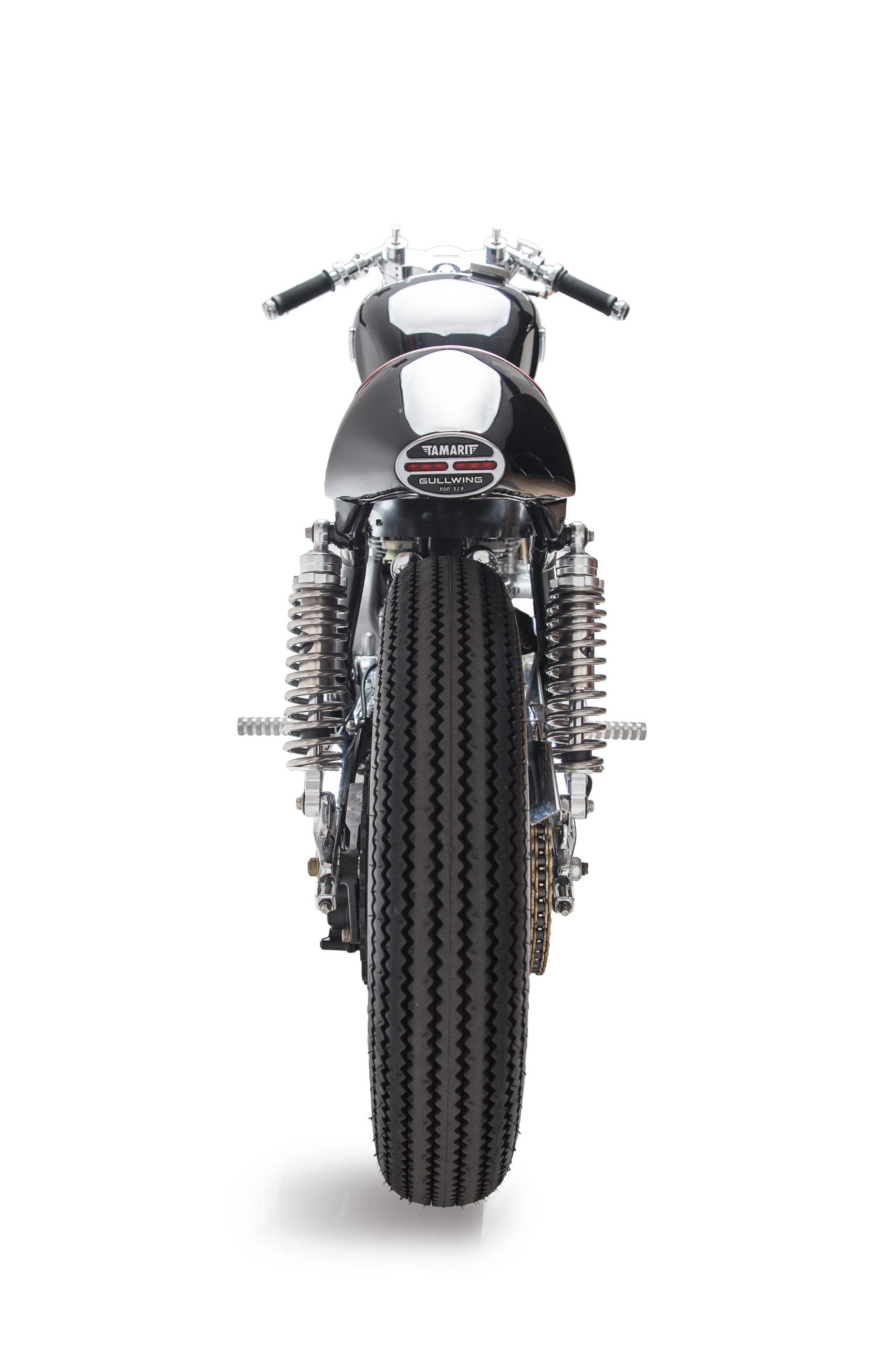 Curvy rear
The main feature was the "wings", and this is why the one-piece body to be raised by a hydraulic was the first to be included, just like the Mercedes doors and the classic tyres that provide the vintage feeling.
Limited copies
Mercedes released this car in 9 colours with their upholstery version in four parts.
Tamarit always refuses to make the same bike twice, but for this special occasion, they will make 9 unit limited series with the same colours the german brand used for the sports car.
A motorcycle crafted for classic-engine lovers, for those who want to fly as the Mercedes did back in the 50s. You can buy the Mercedes 300 SL inspired custom by Tamarit here.
Also, don't forget to check their more work on Instagram and Facebook.
Video
Specs
78 HP
Triumph Thruxton 900cc Engine – Carburetor
Full engine dismantled and assembled back
One-piece hydraulic bodywork
European road/street legal certificate
Modified frame
Gel cushion seat
KN Power Filters
Improved Intake Exhausts
Motogadget devices and ECU
Kustom Tech levers and brake cylinder
Hagon Nitro Shock absorbers
Custom Aluminium Triple Tee
Tamarit Speedster Exhausts
Victory Classic TT Tyres
Galfer brake disks
Chromed Damper