Vialle and Prado are on top in Limburg MX2 and MXGP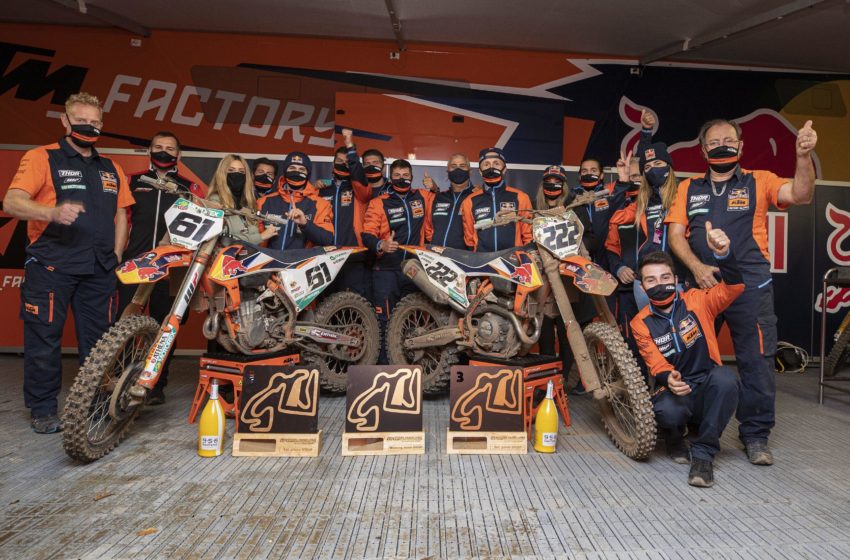 Red Bull KTM news from the Grand Prix of Limburg:
Red Bull KTM win both MXGP and MX2 classes for the fifth time in 2020 with all three riders on the podium

Prado claims his third win of 2020, eighth trophy and moves up to 3rd in the world

Vialle celebrates his seventh success of the season and his twelfth top three
Windy and overcast conditions marked the Grand Prix of Limburg and the second event in the 2020 FIM World Championship to take place in the deep Lommel sand. 
A rainy morning caused the terrain to become even softer, rougher and slower and therefore also more physically to drain.
MXGP
 Jorge Prado – The Spaniard started race day with his 15th holeshot of the season in the first moto. 
He led the race twice: once in the opening stages from Tim Gajser and then again when the Slovenian briefly crashed. Prado could not keep pace as Gajser recovered and fought back but collected a strong 2nd position. 
In the next outing, Prado flew in formation with teammate Tony Cairoli. The pair circulated close together, and Prado was able to keep the Sicilian at bay for his fifth checkered flag of 2020 (the second-highest total of all the riders). 
Prado's eighth podium appearance in his rookie term means he is now only two points behind Cairoli in the world championship standings and 57 points from the lead.
Tony Cairoli improved his Qualification position to 8th and made a good start in the first moto. He kept a consistent pace and moved up from 7th to 5th where he finished. 
In the second race, no 222 was immediately part of a top-three breakaway with Jorge Prado and Tim Gajser. 
After Gajser's off-track excursion Cairoli fought with Prado until the line but was handicapped by a lack of roll-off that meant he had to keep wiping his goggles. The 5-3 allowed the former world champion to open his sixth bottle of champagne in 2020 and remain 2nd in the MXGP table.
Quotes
 Jorge Prado: "It was a tough day, and I didn't feel 100%, but I fought as much as I could.
Tony and I had a good race in the second moto, and I gave my 'all' for that victory; I'm thrilled to have made it. 
The injuries at the start of the season meant that I missed bike time and I was racing without preparation. Now I am starting to feel better and I think it is expected that it takes some time to get tan acceptable on the level. Now we have to recover and get ready to go again on Sunday."
Tony Cairoli: "I liked today. Last weekend was an 'ugly copy' of me because everyone knows I can ride the sand. 
Today was still not my best, the day on this surface, but the second moto was pleasant, and I had a nice feeling on the bike. I made some mistakes but got closer to the front. 
I was a little bit faster than Jorge in some places but was already out of roll-off so I didn't get the chance to overtake him again and [Romain] Febvre was closing in.
I was trying to go for the win but Jorge was strong. He deserved the overall. We'll try to be better on Sunday and go for the win, for sure."
 MX2
 Vialle chased title rival Jago Geerts for the first six laps of the opening MX2 race. 
The pair sprinted away from the rest of the pack and had an even more significant margin after Roan Van de Moosdijk retired. 
Geerts then crashed and handed Vialle the lead, but the Frenchman eased off his pace, and the Belgian was able to catch and retake first place. 
Vialle was 2nd for 22 points compared to Geerts' 25. In the second moto, he didn't make a similar misjudgment. When Geerts again faltered, Vialle was clear to win his 12th race of the year by almost three seconds from Ben Watson. 
It was his second triumph this week and third in a row. Vialle has an impressive 12 podium finishes from 14 Grands Prix and an advantage of 61 points at the top of MX2.
Tom Vialle: "A fantastic GP for me again. When Jago crashed in the first race, I lost my rhythm a bit. I thought 'he must be far behind' and in fact, he wasn't! My lap-times went off and I had arm-pump. 
I enjoyed the second moto much more and I am happy with the set-up of the bike. It is such a problematic track – physically also – so it's essential to stay on the bike and don't do crazy stuff. I'll be focused on that on Sunday."
The Grand Prix of Lommel will bring the Belgian triple header to a close this coming Sunday, October 25th.
 The Grand Prix of Lommel will bring the Belgian triple header to a close this coming Sunday, October 25th.
Results MXGP Grand Prix of Limburg 2020
1. Jorge Prado (ESP) Red Bull KTM Factory Racing (2-1)

2. Tim Gajser (SLO) Honda (1-3)

3. Tony Cairoli (ITA) Red Bull KTM Factory Racing (5-2)

4. Romain Febvre (FRA) Kawasaki (3-4)

5. Jeremy Seewer (SUI) Kawasaki (4-7)
Standings MXGP 2020 after round 14
1. Tim Gajser 533

2. Tony Cairoli 478

3. Jorge Prado 476

4. Jeremy Seewer 461

5. Romain Febvre 421

10. Jeffrey Herlings 263
Results MX2 Grand Prix of Limburg 2020
1. Tom Vialle (FRA), Red Bull KTM Factory Racing (2-1)

2. Ben Watson (GBR) Yamaha (3-2)

3. Jago Geerts (BEL) Yamaha (1-7)

4. Isak Gifting (SWE) GasGas (5-5)

5. Maxime Renaux (FRA) Yamaha (8-4)
Standings MX2 2020 after round 14
1. Tom Vialle 616
2. Jago Geerts 555
3. Maxime Renaux 438
4. Jed Beaton 429
5. Thomas Olsen 410
25. Rene Hofer 73