Whitelock's 48-Cylinder Motorcycle that broke a World Record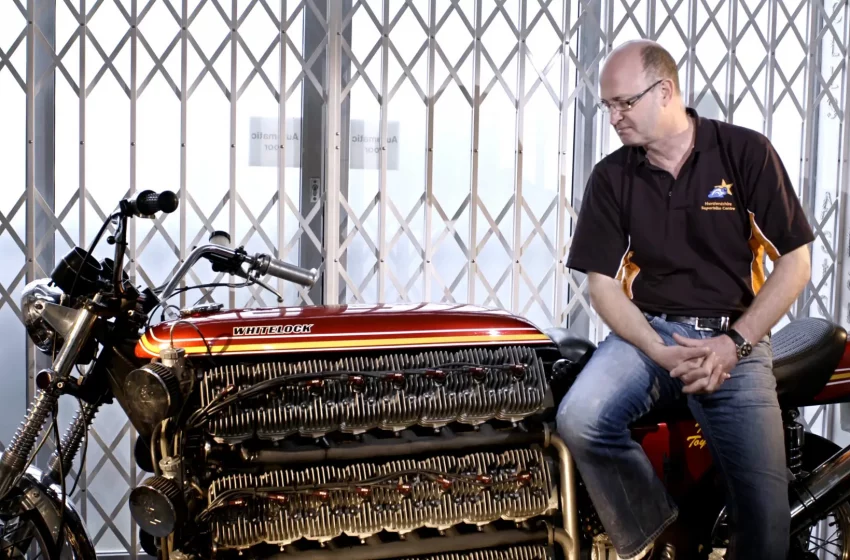 A class of individuals have gone above and beyond to engineer some of the most amazing things you will ever see. In this article, we want to tell you about three parts of this class—engineers, cyclists, and fabricators. 
Engineers are the people who design cars, aeroplanes, motorcycles, and more. They're likely in charge of creating better safety features. For vehicles or upgrading their engines to perform better on the road or in the sky. 
Cyclists are a large part of this class as well. They're constantly striving to improve their bikes to make their rides more accessible and efficient. Finally, fabricators are a crucial component in creating many beautiful things. 
These people know how to weld and turn any piece of metal into a 3D object or valuable tool that they can display or use on future projects or creations.
And we are talking here about the combination of Engineer and Fabricator.
Many people desire to ride something other than their average daily driver. And it's no secret that custom motorcycles are all the rage right now.  But what if you could ride a motorcycle that is nothing short of awe-inspiring? 
Desire
Are you one of those who love riding bikes but would always dream of a different motorcycle under your thighs? Read on to learn more about the Tinker Toy if you answered yes.
A motorcycle with more than 48-cylinders,4,200ccs and 256ccs are hard enough to imagine. Let alone one that is road-legal. But as of April 2022, the record for the most cylinders on a legal road motorcycle belongs to this baddy. 
It's no longer just a "baddy" because it has been officially entered into the Guinness Book of World Records. 
What happens when an aspiring engineer, is supposed to be studying for finals. Decides to build a motorcycle that could have had a cameo in Grease? 
As Whitelock learned if you are going to use a 125cc motor for your experimental engine's starter.It is better to have enough power. In Whitelock's case, he ended up needing a more potent motor.
When most people think of custom motorcycles. They think of choppers and massive 1800cc engines that shake the road every time they go past.
Donkey engine to start
As Whitelock has built now, a bike with not just a two-stroke motor, with a "donkey engine" to start the motor, and we're not talking about 200-300cc here either. It is a 125cc with a 48-cylinder engine that has 49 pistons in it. Yes, you read that correctly: 49 pistons in it!
And sure, this motorcycle may be lightweight compared to the usual Chumba chopper. But it's still nowhere near as light and efficient as their civilian models and weighs 1300 pounds ( 589 kgs). 
But aside from the standard workhorse ingredients like a powerplant. Ignition system and a few other components from other manufacturers and other types of vehicles. 
Another twist on the classic design of a custom motorcycle, Whitelock ignored tradition and established rules when designing his bikes.
Components
The electricity is being fed from the car's alternator. The other components of this powerful custom-like brakes and forks arrive from Honda Goldwing.
Further, the gearbox comes from the BMW K100. The robust Hagon wheels are made from stainless steel same case as the hub.
Tinker Toy may have beaten the world record when building the most powerful motorcycle with four inline-triple engines, but he didn't stop there. 
The custom motorcycle builder has a lot of love for inline-triples and inline-fours, but his latest build seems to be something else entirely!
via Guinness World Record, YouTube, YouTube, The Drive and YouTube