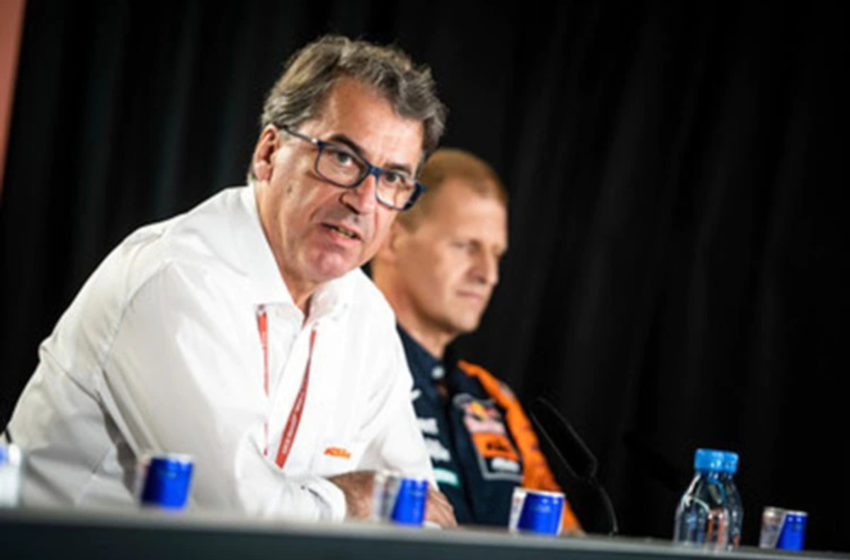 Why we'll see combustion engines in MotoGP for a long, long time?
The CEO of KTM's owner, Pierer Mobility Group, doesn't seem to think electric is the future for high-performance bikes. While 2023 will debut the Ducati MotoE electric racing series.Husqvarna and KTM have already announced their electric projects in the works, Pierer isn't sold on electrification just yet.
In an interview with Speedweek.Pierer said he believes it may take some time and prevent them from being competitive until 2035.
Headlining the interview is Pierer's belief.Combustion will remain the primary fuel source in road motorcycles, albeit with forced induction and direct injection coming into play.
"We are assuming that with 48-volt electrics up to A1 class, that is 11 kilowatts or 15 hp.A lot will become electric in the next ten years, especially in Europe. That applies to scooters and mopeds. 
The whole two-stroke engine will go away. Everything that concerns motorized two-wheelers over 48 volts is going in the direction of e-fuels. There are clear development plans between the manufacturers."
With KTM's electric bikes on the market and with Dorna pushing for the introduction of an all-electric MotoE series in 2023.You could be forgiven for thinking combustion engines are slowly falling out of favour. 
However, given his recent insights into the changing landscape of modern-day traction and propulsion.It seems Stefan Pierer believes electric bikes might have their day but shouldn't power competitive motorcycles before 2035.
Stefan Pierer
He further said, "We can still drive with combustion engines forever," Pierer explained. "Electromobility is nonsense that politically uneducated politicians push. 
For a MotoGP motorcycle that drives a racing distance on 20 litres today.You would need a 500 kg battery to achieve comparable performance and range and to create the same energy density."
At least so far, he sees no compelling reason to stop using combustion engines in the sport. 
"Until 2035, I see no substitute for the combustion engine in GP sport. And what will happen to the millions of existing combustion cycle machines? Synthetic fuel is the solution, not the electric drive. Because this fuel is CO2-free."
We can also conclude motorsport will not see a drop in sales of combustion-engined bikes. 
Instead, Pierer foresees their use lasting into the mid-2030s before eventually being replaced by electric replacements. 
The question remains " Will Grand Prix racing go electric in future ?"
Well, this will be something exciting to see.
via Speedweek