Bezzi's designs indicate ARIIC are in the process to expand their portfolio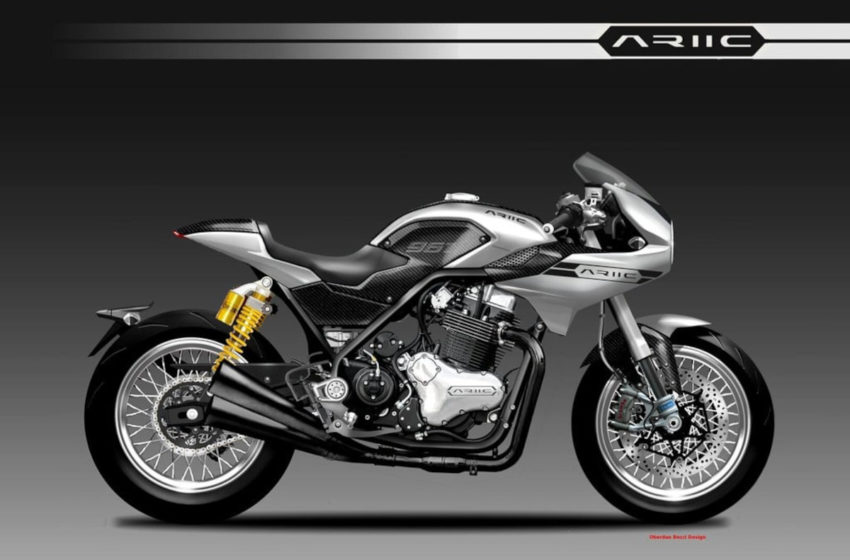 About ARIIC
Found in 2015, ARIIC is a motorcycle manufacturer integrating production, research and development. 
The company belongs to the Jinlang group. After 20 years of producing engines and OEM scooters, they decided to launch a premium brand of motorcycles. 
Founded in 1983, the Jinlan (Jinglang) group has ten subsidiaries, including metal and power.
Coming back to ARIIC. ARIIC right now has a 300cc scooter (China 318), which gets the horizontal bar, four valves, four strokes, water cool engine capable of making 17.5kW/8000rpm of power and 25N.m/5000rpm and torque. The scooter has a 120 Km / h max speed.
And receives some innovative goodies like 
Bosch disc brakes, 

A two-stage horn for soft sound and effective alert,  

S0S function, which is responsible for cutting the power and turning off the fire in the event of an accident and 

Keyless start and more.

China 318 scooter
ARIIC's present portfolio
While ARIIC's portfolio only has the China 318 scooter, we can easily see why ARIIC cannot expand their portfolio in other segments like the motorcycle.
And who could very well design these motorcycles apart from the innovative designer Oberdan Bezzi?
The Italian has come with two motorcycle designs, and they both are cafe racers.
Both these designs are sleek and get the retro style.
Design 1:

 The first design comes with the round headlight with the silver shade bezel, a compact yet stylish black seat for a single rider, retro exhausts in the silver shade, a short black front fender, a large disc brake on the front, rims in the silver shade, 961 inscribed on the fuel tank.

At the same time, most design gets the black shade. The design in black and silver shade looks neat and impressive.




Design 2:

 Design 1 and Design 2 are similar. However, there are differences. Design 2 has a short fairing and a short windshield at the front; however, the design remains cafe racer.

Bezzi has used carbon fibre on the tank and near the front shock absorber, and on the rear seat cover; however, the same carbon fibre is absent in Design 1.

Compared to Design 1, exhausts get the black shade instead of silver. Design 2 is dominated by the silver shade, unlike Black shade gets maximum space on Design 1.


Both these designs are retro and funky. The critical thing it will make ARIIC think to grow their portfolio.