Christofer Ratcliffe talks about his niche brand ' Langen '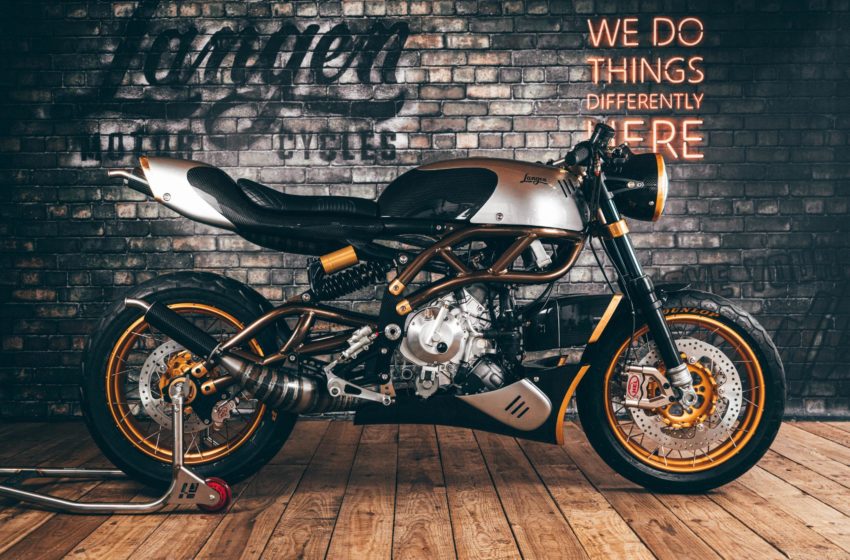 Langen Motorcycles was born out of a passion for creating motorcycles unlike anything else on the road, pushing the boundaries of modern technology and innovation whilst capturing the very essence and emotion of riding a bike.

Langen is working on the philosophy that motorcycles should provide raw excitement to ride and be a pleasure to stand and admire. Form and function can work in perfect harmony.

They sincerely hope you enjoy sharing this journey with us and helping to create a new chapter of British motorcycle history.
We had a great chat with the main man behind Langen, and he is Christofer Ratcliffe aka 'Langen'. Let's understand what goes behind in creating a niche brand.
How did Langen start?
Christofer: In March 2019, I left my job, sold the car and family home and set up a new engineering company focussing on two-wheel research and development.

The dream was to start a new brand and launch a new two-stroke road legal motorcycle.


Today significantly fewer motorcycle manufacturers manufacture two strokes. Do let us know your idea in bringing the two-stroke was?
Christofer: There are only a few engines in the 2 or 4 wheel world that have real character and can bring about so much evocative emotion.

The two-stroke engine is undoubtedly one of those and had sadly been left behind decades ago in terms of development by mainstream manufacturers.

With modern advances in manufacturing and vehicle electronics, it seemed like the perfect opportunity to bring two-stroke road motorcycles to life again.


The details on the motorcycle are very immaculate right from 24ct gold leaf detail finish to the paint job. We will be interested to know how much time does it take to develop a single build right from scratch?
Christofer: Thanks! It takes around 3-4 months to manufacture the components for an individual bike to the owner's specification, but we can build simultaneously and plan to complete 2-3 per week starting from Summer 2021.




What challenges do you face while building the motorcycle?
Christofer: The biggest challenge of designing the bike was keeping to our crazy target weight of 115kg. This led us to run many optimisation studies on CNC machined components and the aluminium space frame chassis.

We also decided pretty quickly that carbon fibre was to be used to manufacture anything that wasn't structural – including the fuel tank.

The completed bike finally weighed in at 114kg, so we are rather chuffed with ourselves.




Who has designed the motorcycle?
Christofer: We have a small, passionate team here and everybody has their input. The initial design was born out of a bike that I wanted to create for myself.


Is the aluminium space frame build in house?
Christofer: We specify all of the components such as CNC bent tubes and laser notched tubes, machined components and more. But the final welding is done by a great company local to us.




Vins is probably the coolest two-stroke engine. So are the engines imported from Italy?
Christofer: Indeed, they are. The people at Vin's are genuinely some of the most intelligent and passionate engineers we have met. Each engine is built to order by Vins and sent to us.

We can specify almost anything on the engine from a different set of gear ratios to the customer's limited edition number machined into the casings.




Why limit to 100?
Christofer: We want to keep the company and brand very specialised and focus on creating special machines rather than mass production of rather generic motorcycles.

The bikes will be hand-built at a rate of 2-3 per week, so any more than 100 and the waiting time starts to get quite long.

We do aim to Type Approve the bike and price a further 150 for the rest of the world of there is enough demand.




What is more customisation and personalisation options available? Or in this case, a buyer can think on his own and let you know.
Christofer: Custom ergonomics and rider setup are essential to us, so we tailor the bike to each rider.

We will offer a range of 'standard' options such as paint colours, wheel and suspension choices but ultimately we want to listen to the new owners and give them as much input as possible on each build.

We have had many requests already including a fairing kit. So watch this space!




If you wish to export, how do you plan to provide after-sales service?
Christofer: If we decide to produce the 150 Type Approved export motorcycles, we will appoint in-country agents to work on our behalf.

We already have lots of requests from dealers and importers all around the world. It is essential that whoever represents us will recreate the close personal relationship that we will have here with the bike's owners.




How do we see Langen five years down the line?
Christofer: We have a few more exciting projects going on in the background which could develop into something over the next 2-3 years, but for now, we are entirely focused on the subsequent testing and refinement stages of the two-Stroke and building 100 exceptional quality motorcycles.
Before these cool 100 copies get over we wish you to hop on to there website Langen Motorcycles and preorder.
To know more about Langen do follow them on Instagram and Facebook. You may also like to watch the unveiling of new limited edition Langen.
Read More
Meet the new Aprilia 2020 Tuono 4X
Harley is all set to evacuate India
Crazy Garage's endurance war horse
Bimota carries test on Tesi H2