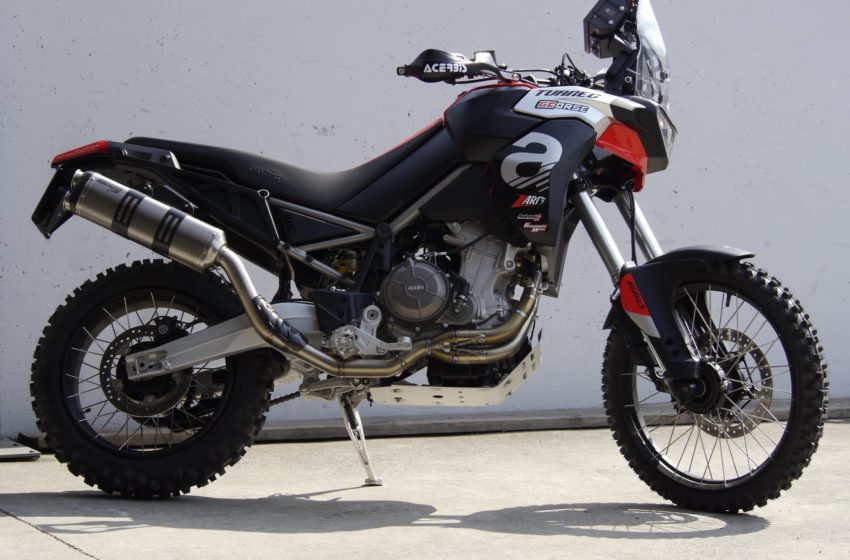 Custom Aprilia Tuareg by Guareschi Moto
Guareschi moto
Guareschi Moto is one of Italy's speciality motorcycle shops and has been for decades. It would be an understatement to say that owner of Guareschi Moto has appeared on our radar before.
He leads the charge to create his brand of bits and pieces for various two-wheeled endeavours.
Whether it's a sportbike or some of the custom bikes they build. They are forever trying to improve upon things — no matter what they may be.
Whether you consider yourself a motorcyclist or appreciate beautiful machinery. A machine they built with this kind of attention to detail is a thing of beauty.
Aprilia Tuareg 660
When the Aprilia Tuareg 660 was first released, some questioned its purpose. Given it didn't share many similarities with any of their other models. But over time, it gained a fan base that appreciated its versatility and long-distance touring ability — especially on the rally scene.
The Aprilia Tuareg packs plenty of power under the hood. And it is evident the racer has opted for a more aggressive riding position to get more performance out of the bike by twisting the throttle on straights.
The Aprilia Tuareg 660 is a competent machine that we can find in the middleweight category in the world of dirt bikes. As we mentioned earlier, this model gets support from a carbureted parallel-twin engine with a displacement of 654 ccs.
The engine gets a six-speed gearbox. And it has the potential to develop up to 80 horsepower and 51.6 foot-pounds of torque.
Custom
The bike got several modifications that should make it easy for the rider to handle some off-the-beaten-track action.And the prominent among them is the Zard exhaust. Since the bike is based on a tried and true platform, we still question whether Guareschi decided to keep the parallel-twin engine stock.
There's a massive world of aftermarket parts out there. But only a few make the shortlist of fitment and finish. We're not sure which is more impressive here.
The fact that Guareschi was able to cram this complete modification list onto an already swanky Aprilia or that the list includes such reputable brands as Pro grips, Andreani, and Acerbis.
While there are more details left, you can modify the Aprilia Tuareg in various ways, and we've covered a good number of them over the past few years. Here is another one that you can add to the list: the Tuareg 660 Rally Edition by Guareschi Moto.
via Guareschi moto and Guareschi Moto