Aleix is in the top 10 braving the Indonesian rain
There is nothing like a tropical storm half an hour before the start to disrupt concentration and potentially destabilize the pre-race ritual. 
No, we're not talking about our pre-GP, which at the worst – at least for the Europeans – was upset by waking up an hour early unnecessarily. 
We're talking about the minutes our riders experienced before donning their helmets and hurtling off at 350 km/h to stroke the asphalt. They get ready, focus, listen to music. 
Even some meditate; they find the "zone" and hold onto it with all their nerves, hoping that nothing can pull them out of it. And then bang a downpour, a disrupted schedule, interminable minutes of waiting, the race reduced by seven laps, until suddenly you're on the grid with the lights going out. This, too, is MotoGP!
In Indonesia, Aleix proved to be fast – standing out among the best of the weekend in dry conditions – and to have the coolness of a veteran, knowing how to react well to the adverse conditions.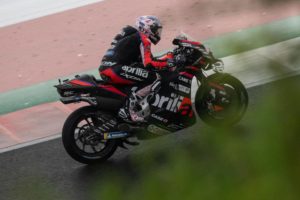 RS-GP
Not getting off to a great start, he ended up involved in a skirmish on the first lap, losing many positions, but from there, he began to lap firmly and steadily, with a good feeling with his RS-GP. 
Overtake after overtake, scream after scream of our racers, in his group, he managed to get the better of Darryn Binder, Bastianini, his brother Pol, Alex Marquez, and Bagnaia, going on to take a hard-earned solid ninth place. 
The only regret was that he couldn't avoid the contacts of the first lap that made him lose the best positions immediately; nevertheless, our No. 41, once again, showed us the meaning of his captain's stripes!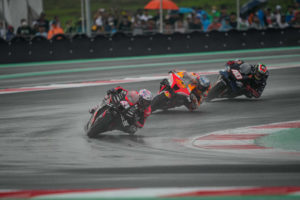 It could have been, and in a way, the weekend of Viñales.
Although not the one we racers wanted. Maverick got off to a great start with an excellent result in the warm-up session where, after some significant changes to the bike's setup, he found a new feeling with the RS-GP, going on to finish second.
Off to a bad start in the race, he found himself at the back of the pack, but as soon as he was able to find his pace, he lapped with times worthy of the best, his comeback coming to a halt just behind 15th place and therefore out of the points zone. But he left Mandalika, having made an essential step in his growth on the Aprilia.
Quote
ALEIX ESPARGARÓ
"It was a very difficult race because of the weather conditions and because during the first lap, I found myself twentieth due to contact with Álex Márquez. Staying in the group was hard and visibility was also extremely poor. But the bike worked well. Grip wasn't bad and from there I began to come back. In the last seven laps I overtook quite a few riders, making up positions. Taking home another top-ten finish on such a difficult Sunday was a good result."
MAVERICK VIÑALES
"Even though the result is certainly not the one we wanted, it was a positive weekend. Today was perhaps the most important day of growth for me since joining Aprilia because we found a really good setting that I was able to go fast with in the warm-up session and that I was comfortable with even in wet conditions. I'm happy with the work we did here. We are taking a step closer to the best with every round. I can't wait to get to Argentina to continue this positive trend."
via Aprilia