Energica partners with Mavel for the technical engineering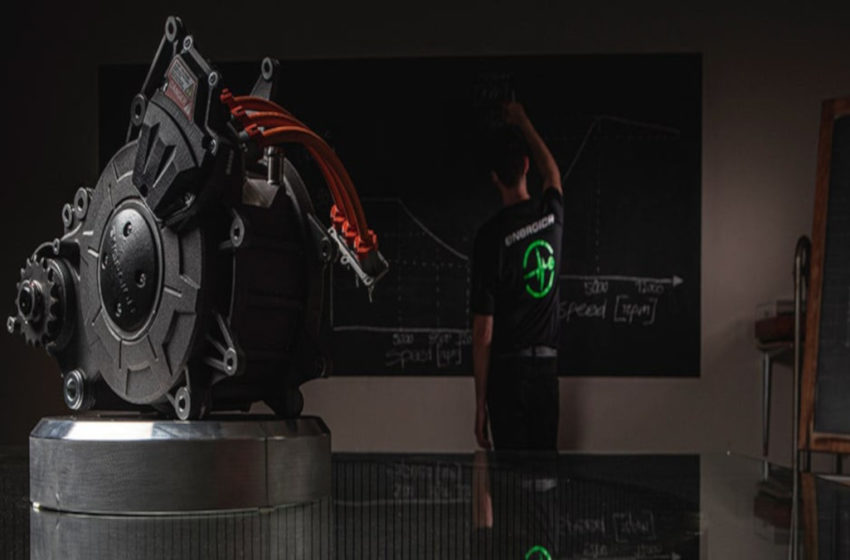 Energica chose Mavel to collaborate for the technical engineering. And the new EMCE Motor and Inverter design because of the wealth of experience of this renowned. Italian company in creating and manufacturing electric powertrains of all sizes and applications. 
It didn't hurt that Mavel is based in an old hydroelectric power plant in the rugged Valle D'Aosta near the Swiss-Italian Alps, just three hours north of Modena. With genuinely stunning motorcycle roads everywhere in their vicinity.
Energica unveils the new EMCE Motor and Inverter.
A significant step forward in electric propulsion for motorcycles. EMCE is a wholly new HSM motor and inverter exclusively co-engineered by Energica and Mavel.
Motor and inverter now share a liquid-cooling system.
It is resulting in a more straightforward and more effective design with reduced size and greater thermal efficiency. 
Riders will appreciate the benefits. Lighter weight and a lower centre of gravity for enhanced agility, higher peak performance, increased range. Especially at higher speeds; and substantially reduced maintenance intervals.
Because motor and inverter are developed in tandem, the inverter can provide Adaptive Control.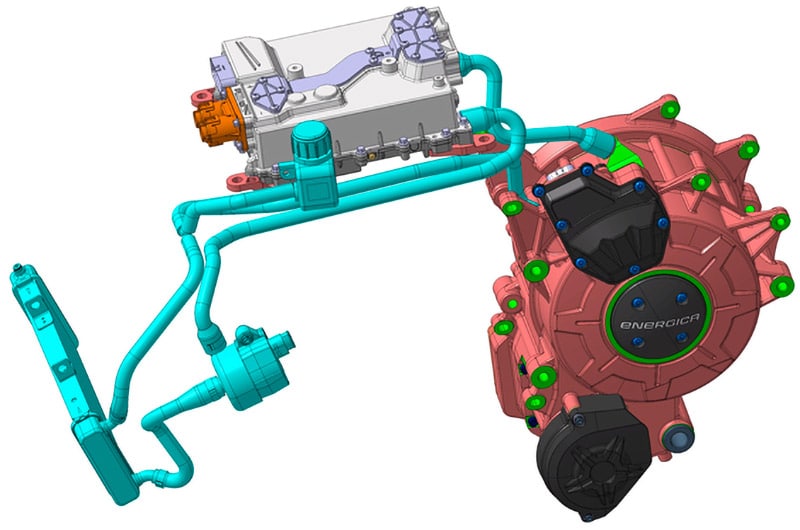 It means it can select the proper control parameters as they vary. The torque required by the vehicle, the engine speed, the operating mode of the system. The temperature and other factors identify the active status of the powertrain. 
Adaptive Control ensures that the inverter can continuously operate the system as efficiently as possible while extending the operating limits of the system itself.
Engine and inverter are 10 kg (22 lb.) lighter than our previous design. Despite better thermal efficiency and more power, reducing EGO+ weight to 260 kg (573 lbs.).
Handling for the motorcycle is enhanced as the smaller size also ensures lower inertia of the motor.
Power
Continuous power delivered by the motor is slightly more at 147 Hp/110 kW, but peak power increases considerably to 169 Hp/126 kW. Couple this with the improved acceleration of the RS Version, and you have the best performance from any electric motorcycle on the track or the open road.
Range
Weight reduction assists in range at any speed. But the actual delivery increases range at higher highway speeds because of the enhanced efficiency that brings lower temperatures for the new EMCE motor. 
According to the riding style, the range increases from 5% to 10% at lower rates—great news to track fanatics everywhere.
Maintenance
Fewer moving parts always meant less maintenance than for IC bikes, but the transmission/motor oil change interval was 10,000 km/6,000 miles in the past. No longer. 
Transmission oil now needs to be changed only every 30,000 km/18,600 miles. With Motor/Inverter coolant every 45,000 km/28,000 miles. Now you can ride and (almost) forget.
via Energica