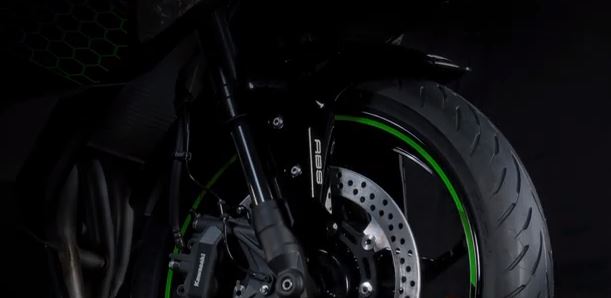 Kawasaki brings the sixth teaser of ZX-25R
Kawasaki brings the sixth teaser of ZX-25R.
Third Teaser
In the third teaser, Kawasaki disclosed information on engine ram air intake.
Fourth Teaser
The fourth teaser had information on the contents of the radial-mount caliper and large diameter disc make it feel good with braking power and controllability.
Fifth Teaser
The fifth teaser had all the details about the engine.
Developed with the inputs from other Ninja ZX Supersport machines, the all-new engine offers a quick-revving nature, direct throttle response.
The flexible character combines strong low mid-range torque that facilitates city riding and screaming high-rpm power that is both for sport or track riding.
Every twist of the throttle rewards riders with the satisfying surge of acceleration complimented by characteristic intake and exhaust notes of Kawasaki in-line four.
Sixth Teaser
The Ninja ZX-2R's 37mm inverted fork SFF-BP internals. That combines the concept of Showa SFF and BFP. This advanced fork offers both race track performance and everyday usability.
At the rear, Horizontal back-link rear suspension offers a more progressive character that contributes to the bikes supersport style handling.
Both make their debut in the 250cc class.
Kawasaki ZX-25R Specs 
Engine: DOCH water-cooled 4-cylinder 4-valve

Displacement: 249cc

Front tire: 110 / 70R17M / C 54H

Rear tire: 150 / 60R17M / C 66H

Tire: SPORTMAX GPR-300

Rear sprocket: 50
Release Date
Kawasaki plans to release ZX-25R in the fall of 2020.
Price
ZX-25R is at around 900,000 yen to 1 Million Yen in Japan.
We are looking forward to the ZX-25R and why not since it is one of the most influential bike coming out form Kawasaki stable.
---
Source : YouTube
See Also

M V Agusta's Rush price unveiled
DC Roadser teased by BMW
Suzuki's new patent for GSX1000R