Kawasaki introduces MX bike "Elektode" for young riders
Kawasaki has long displayed their ability in two-wheeled propulsion systems, and now they've put that experience towards developing a bike for the youngest and most inexperienced pilots. They have introduced the Elektrode Balance Bike, a scaled-down version of Kawasaki's popular KLX models for young riders.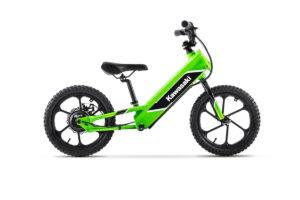 Elektrode Balance Bike
The company keeps proving that it's just as innovative in the motorcycle industry as it is in any other sector of the world, and now the Ninja brand has taken its understanding of producing mighty yet lightweight machines to a whole new level by kids' balance bike – the Elektrode Balance Bike.
Whether you buy your kids a set of training wheels or want them to learn how to ride as quickly as possible, balance bikes can be the way to go. 
But there are numerous options on the market, and if you don't know what you are looking for, it can make your life pretty tricky — and that doesn't even consider the task of narrowing down where you buy one from!  Kawasaki has created this new bike for young riders from three to eight years of age.      
It's an attractive MX-inspired offering that could have a few appealing facets for parents. While this will be a good choice, Kawasaki ensured they built the bike from scratch.
The bike arrives with the aluminium chassis integrated with a robust 28.8mm steel fork, a pair of 16-inch cast wheels, and a strong tail end.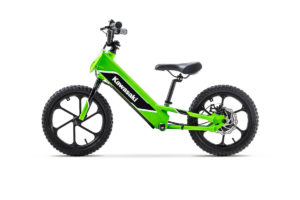 Specs
The Elektrode gets power from an air-cooled brushless in-wheel direct hub EIWOL electric motor, which has three modes 5mph, 7.5mph, and 13mph.
With the traditional Kawasaki lime green livery, the bike has a 36 V 5.1 Ah (187.2 Wh) battery capacity and 250 Watts battery output.
The battery requires 2.5 hours to get fully charged, while the braking duties are performed by a single 160mm rear mechanical calliper rotor. Elektrode supports weight up to 99.5 lbs (45 kg) and has a seat height of 16.1-20.5 in (410-520 mm).
The 2023 Kawasaki Elektrode Balance Bike gets a sticker price of $1,099
via Kawasaki