Kawasaki's supercharged cruiser ' Eliminator'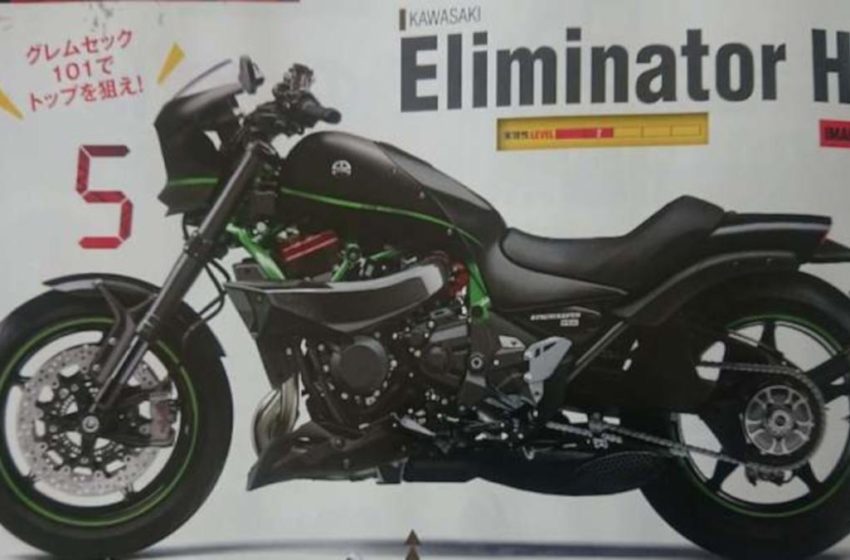 Just when we thought what more could Kawasaki innovate? Oh well, we are wrong. And this isn't for the first time.
Kawasaki is marching ahead when it comes to the Japanese big four. Whether its lethal naked supercharged ZH2 or helping Bimota for there Tesi H2 and KB4.
Supercharged Eliminator 
Or whether it's an electric project Kawasaki is the forerunner. The current project talks more about what Kawasaki wants to achieve with the cruiser.
The notable motorcycle mag Young Machine talks about the supercharged engine stacked into a cruiser style motorcycle.
Although there isn't much information apart from the cover image and the supercharged engine will come from H2 or ZH2.
Young Machine is a great source, and we don't see they will talk a hoax.
The sources do claim the motorcycle is under development and Kawasaki plans to bring it in 2021.
Well, the question that lingers in our mind? Ninja H2 makes around 230 ps which when converted comes to about 226 hp.
Now, will it be logical to stack the 226 hp in the cruiser? When the style of cruisers are naked and not faired.
Take in the case of ZH2, which is a naked supercharged roadster, and the ZH2 gets around 200 hps.
We feel the new supercharged cruiser may get the tuned platform from ZH2. As we think the H2 platform will be too much for a naked cruiser.
If in any case, Kawasaki wants to bring any change in the design of there new cruiser 'Eliminator.'
Why may Kawasaki not use the supercharged Ninja H2 motor?
At least we don't see cruisers making 

226hp

. The 

1833cc Honda Goldwing 

makes 

124 hp

, 

Moto Guzzi Audace 1,380cc

 makes littler under 

100 hp

. The 

Bavarian 1600cc 

hulk 

BMW K 1600 B 

makes 

160 hp

. The 

1868cc

 

Harley Davidson FXDR 114 makes 90 hp

. The new 

Ducati XDiavel 

joins the

 BMW K 1600 B 

league and makes

 160 hp

. Further, the 

2458cc Triumph Rocket 3 makes 167 hp

.
The motorcycle enthusiasts who ride Cruisers prefer acceleration and style over speed and power.
These are two strong reasons why we may see the motor will come retuned from ZH2 although the cover image says Kawasaki Eliminator H2.
On the other hand, even if Kawasaki puts the 226hp Ninja H2 supercharged motor in the cruiser, motorcycle enthusiasts will enjoy. We sure will see more details in future.