News : Suzukis patent for GSX – R250
Although the figure is GSX – R250, it seems to be a patent of a system not related to a commercial model. After all Suzuki has changed.
It plans to give a vehicle structure of a bike fit for extending the swing arm while shortening the wheel base.
It is documented in July 2017.
6: Exhaust
7: Silencer
30: Crankcase
32: Cylinder head
33: Cylinder head spread
34: Oil dish
43: Air more clean
Objective of this Suzukis patent : "The motorcycle (1) has a crankshaft (35) extending in the left-right direction, a main shaft (36) extending in the same direction as the crankshaft and transmitting the rotation of the crankshaft, a main shaft extending in the same direction as the crankshaft, A drive shaft (37) for transmitting rotation, and a pivot shaft (38) extending in the same direction as the crank shaft so as to swingably support the swing arm, the main shaft being disposed in front of and below the crankshaft, The drive shaft is disposed below the crankshaft and behind the main shaft, and the pivot shaft is disposed inside a triangle connecting centers of the crankshaft, the main shaft, and the drive shaft in a side view"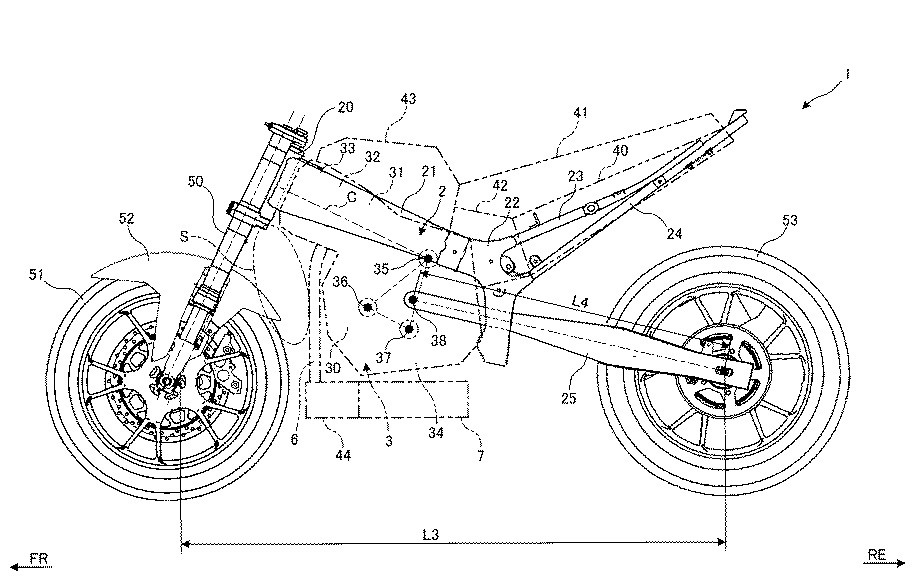 This patent, the motor is an abnormal way … Here is an assume of Suzukis patent that is upset and pivoted, yet regularly you are on the motor with this introduction. In addition, it is uncommon (presently it is about 310R) in reverse exhaust as of now.
---
Source : Kojenti