Our talk with young minds of Elisava Racing Team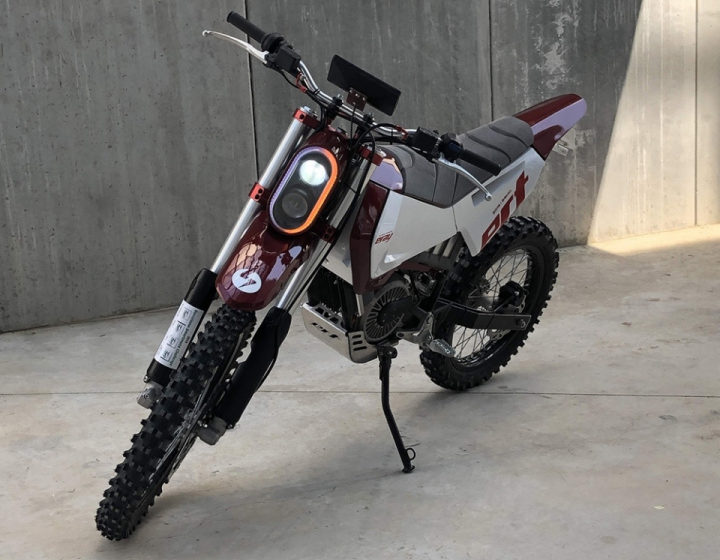 Elisava Racing Team is team of of 12 design and industrial design engineering students from the Elisava School of Design and Engineering. 

They  form a multidisciplinary group to obtain a global and complete team, capable of working all aspects of the design process, production and implementation in the project.
They have build a electric offroad bike called as "Eray". Here is our talk with these young minds.
Elisava Racing Team
How did the Elisava Racing Team start?
Elisava Racing Team : ERT began when three of our members made a proposition to our tutor, Marta, to take part in the Barcelona Smart Moto Challenge (BSMC) competition with a team of students as their Final Degree Project (FDP).

After discussing it with the university, they came to the conclusion that it was indeed interesting that a design engineering school as ELISAVA would take part in a type of competition which mainly regards mechanical and electronical aspects, and so by October 2018 a group of 12 students (11 engineers and a graphic designer) was created and dubbed Elisava Racing Team.


                                                   Eray is electric innovation by Elisava Racing Team


How did you start the plan to build the Eray and Why an electric offroad bike?
Elisava Racing Team : The briefing from BSMC made it easier to define the scope and objectives of the project, since it stated that the requirements for this year were making an off-road, electric vehicle which incorporated a series of smart technology applications.

As ELISAVA is specially centered in design, though, we merged this requirements with the ones that are expected from any FDP at the university, and thus we came up with the proposition of building an off-road electric motorcycle which was suitable for mass production and comerciallization.

Once our objectives were clarified, we decided to use the school's approach to design methodology to define our customer segments and insights, which would then define the major lines to follow during the development and manufacturing phase.

Along the way we faced sundry challenges and problems which we had to overcome as they appeared, since the project's deadlines were so tight that there was no virtual time to set up a great management system to prevent and tackle them before starting.


Let us know more about " Eray".
Elisava Racing Team : Eray has been designed as a major statement of what new manufacturing technologies from the industry 4.0 can do.

It implements 3D printing, IoT and data gathering frameworks, innovative approaches to business models in the automotive sector and ergonomics and design principles to convey a solution that intends to show that electric vehicles do not need to follow the same rules combustion ones do, which is a more than common approach within the sector.

For example, the whole cowling (red and white parts) was made in Nylon using HP's MJF (Multi Jet Fusion) 3D printing tech. This allows us to actually be able to modify the components under customer demand, since they are a parametric file, and then print them to deliver a new type of customization experience.

In an even more technical note, the whole seat was made using the newly developed elastomeric TPU for MJF printers, which in combination with lattice structures and ergonomical design parameters allows us to modify the seat's hardness, surface pattern and shape to fit each rider's needs.

In terms of communication technology, the bike incorporates 30+ sensors ranging from battery management systems and thermometers to distance, weight and acceleration detectors to offer a wide variety of applications: blind-point object detection, dynamic weight calculation, movement-triggered alarm system, GPS positioning.

All this data is internally processed and can be either uploaded to the internet to manage it from IoT platform Thingworx (even allowing to modify motorbike parameters remotely) or transmitted to an app via bluetooth.

This very system also enables several different options for customization within it, since it allows the user to choose light patterns for both front and rear lights, control which information is displayed in the screen, create tailor-made driving profiles to change the power output and behavior of the bike and access and ignite the bike from the app, with no need to have a physical key.

Finally, in terms of electrical design the bike uses CAN-Open protocols to transmit all the information from the ECU to the data processing unit, while the "plug & play" battery has been designed to ease battery swapping through a battery exchanging service similar to the ones we already see in some competitor's business model.

With 80km of autonomy in mixed conditions, and lesss than 15 seconds needed for extraction, the battery system is really efficient towards tackling the main problem associated with electric mobility.


What was the most challenging aspect while building a bike?
Elisava Racing Team : Being the first time we did a project like this, and given the fact that building a motorbike is not easy nor cheap, I'd say the most challenging aspect was getting companies to actually believe in the project and help us make it a reality.

The amount of different components and resources needed, as well as the necessary knowledge and expertise to build all the structure or the battery pack from scratch, made it really difficult to see the end of the road, but in the end we managed to reach the goal without sacrificing any objective.

In the technical aspect, ensuring that the fit tolerance between the soldered frame, the 3D printed parts and the battery pack (which had to be produced all at the same time and with no margin of error) was probably the most challenging factor we had to face.

A bit of luck, a lot of help and an incredible amount of hours were needed to make it happen, and we are proud to say that it turned out to be a really high quality product.


How will you differentiate Eray compared to other bikes?
Elisava Racing Team : Eray is an experience in itself. It's not just that it is electric, customizable, engineered or futuristic. It's the fact that it merges all this aspects together to maximize each of them while stil being a feasible approach to the industry's current situation.

Eray is a hypercustomizable, smart electric bike that could be manufacturable and profitable if it was to be produced today. And I believe that there's not that many companies who are risking to take such a modern approach to EV.

They rather play by the combustion rule book, and their bikes (while still competitive and well designed) don't offer any other kind of added value than being electric, which we all know has a lot of downsides.


You have been a great source of inspiration. How do you feel about it?
Elisava Racing Team : Its a strange feeling to see how something that you've lived so intensely and closely becomes a source of inspiration to others.

We were so focused on the details and nuances of Eray's development that it came as a great surprise to see that our efforts weren't being unnoticed.

In the end, one of our main goals was to make a statement towards getting more and more people involved in changing the perspectives we have about all the sectors involved in the project.

Knowing that we have achieved to do that and that someone might feel a push to take our lead and take it further makes us proud and competitive at the same time. We all hope to see how we can evolve from here, and were does it take us.


How soon do we see "Eray" on the roads?
Elisava Racing Team :It mostly depends on manufacturer's interest. As I said before, Eray is a feasible project with the industry's current state-of-the-art, but its nowhere close to being production-ready. I belive, though, that in 5 to 7 years we'll be able to see the first steps towards the kind of business model and product that Eray represents.


How do we see the Elisava Racing Team after 5 years?
Elisava Racing Team :After the successes of this first edition, and our sponsors' willingness to keep working with us in future editions, I believe ERT has just begun a long lasting career.

Only the talent of newcoming engineers and designers, and their will to reach further and greater goals, will tell the outcome. But in the meantime we'll get to see each step forward towards a different future, and that's the best that a project can aspire to do.
---
Source : Elisava Racing Team 

Read More 
2020 Isle of Man TT Schedule
IXS Touring Jackets
Suzuki unveils Saluto 125
Jorge Lorenzo " The Master of Track"
Rea is back on Imola