Taverne Motorcycle builds custom "Project X" Buell M2 Cyclone
From 1983, Buell produced some of the most innovative and distinctive motorbikes. EBR 1190SX, XBR9 Firebolt and Black Lightning all had a universally appealing aesthetic and a massive departure from the norm. 
These bikes will always appeal, from classic 1950s cafe racers to custom all-out speed machines. The styling and overall specification of these motorcycles were unlike anything else out.
Over twenty years, Buell built a collection of motorcycles that may never be equalled. 
With a desire to create unique and distinctive products, Erik Buell had the vision to develop technologies and components never before seen in motorcycles. 
Old school new style
Buell blended old-school American style with new-school engineering and manufacturing and pioneered many new design philosophies for motocross bikes and motorcycles. 
Many amateur and professional racers have ridden on these bikes, turning them into an eventful trail of memories.
The M2 Cyclone may look like a high-performance "motorcycle" It has some of that over the long, powerful speed. 
But I think you're going to have a ball with this bike, not just because of its power and handling but also because of the incredible styling. 
What do they do?
The Cyclone stands out and offers style and performance in one bike. At Taverne, Motorcycles they had built many custom one-off motorbikes – but it's fair to say the Cyclone ranks near the top in styling, design and performance.
If there was ever a bike to disprove the adage that customs are for older riders, this creation from Taverne Motorcycles could be it. But of course, you will have it on the road instead of sitting in your garage, so that's where Project X comes in.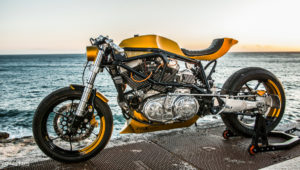 It's the nature of the beast: owners generally have a specific idea of what they want, but few ever ask for a radical custom like this. And it's not too surprising as the Buell M2 is an oddball of a motorcycle with an exposed engine, forward foot controls and a distinctly American stance.
Taverne
This '99 Buell M2 "Project X" is one of the wildest customs we have seen on our travels over the last decade, and it's a thrill to take a closer look. Flo Taverne and Chris Kling founded Taverne Motorcycle, and they have been working on bikes since 2015. In addition to classic conversion projects, their workshop specializes in complete services to all bikers.
At Taverne Motorcycles, they always push the envelope with their builds and test limits. Every build they do is different from the last because of the way they like to think. For this reason, they named the Cyclone project "Project X ". 
"X"
We could think why they gave the project a specific name. The term "X" represents infinite possibilities, which felt suitable for this particular build, one of Taverne's motorcycles' most elaborate builds yet.
The components do arrive from various other bikes and manufacturers.
1200 Sportster powerplant

Mikuni HSR carburetor

The bare frame

Beringer brakes 

RSV4 wheels

Buell X1 swingarm

955i speed forks

Shock Factory shock absorber 

Motogadget tachometer