Truvor " The Carbon Fibre Electric Scrambler " with purpose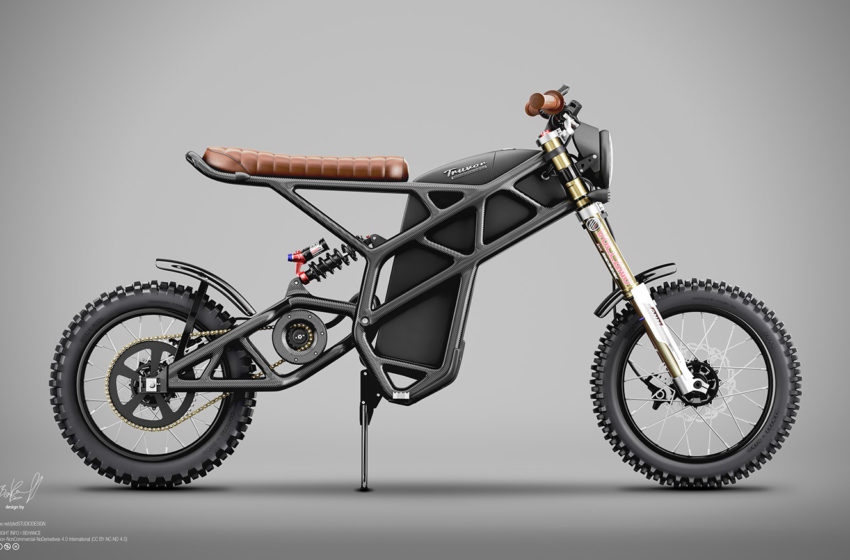 "Truvor," the superlightweight electric Scrambler, is designed by Denzel Electric and Pablo Baranoff Dorn.
Now, this is not the first design that comes from Pablo. In the past, he has designed a concept Helmet and electric bike concept called " WAYRA. "
Why superlight because it just weights 65 – 75 kgs. Let's get to the nitty-gritty of the bike.

Specifications
Max speed: 85 to 100 km/h

Range: 120 km

Front Fork: DNM MT200

Rear Shock: DNM-MK

Chain: 420 Standard

Motor: Denzel Motor D8000

Controller: DECO-M, 275A (vector)

Modes: Two modes Eco and Sport. Each mode is configurable, and the rider can set five parameters for each mode.

Batteries, are assembled in Denzel factory, the range of batteries as per Denzel, can be an increase from 60 km to 150 km.
Also, the weight of the bike could vary depending upon the carbon fiber components used.
For wheels to there is an option to customize when it comes to sizes. 17-inch front and the rear wheel cross option 19-inch front wheel and 17 inches or 16 inches at the rea.
The motor comes from 2,000 watts to max power of 12,000 watts.
Truvor is available in three different paint schemes Black, White and Yellow.

Buying Options
Interested folks can preorder here. We also see preorders taken via two separate modes.
For private clients: This is generally for a single buyer who would like to buy a bike.

For Business: Buyer looking to buy in bulk and preorder should have at least 30 bikes plus prepayment must be 20% of the minimum cost of the bikes.
With $500 as a deposit, the average price of the bike is $4000.

LivingWithGravitys Take
What we like
What we like is that the design of the bike is quite straightforward.

Besides, we see carbon fiber components that have made the weight of the bike quite less.

Othe components to look for are the high-quality leather seat and leather grip.

Range too is good and can be increased till 150 km/h on a good day.

Power attention function allows for more economical usage of battery.
What we dint like 
There is no information on the time that the battery gets recharged.

No refund once anyone preorders the bike. The only time you get the money is when Denzel won't be able to provide you the bike in the given time frame.
---
Source : Eastgem
Read More 

Top facts about the Kawasaki Z900
Kawasaki KLX230 R is spied 
Arch Motorcycles 
Yamaha's MW-Vision set to arrive soon