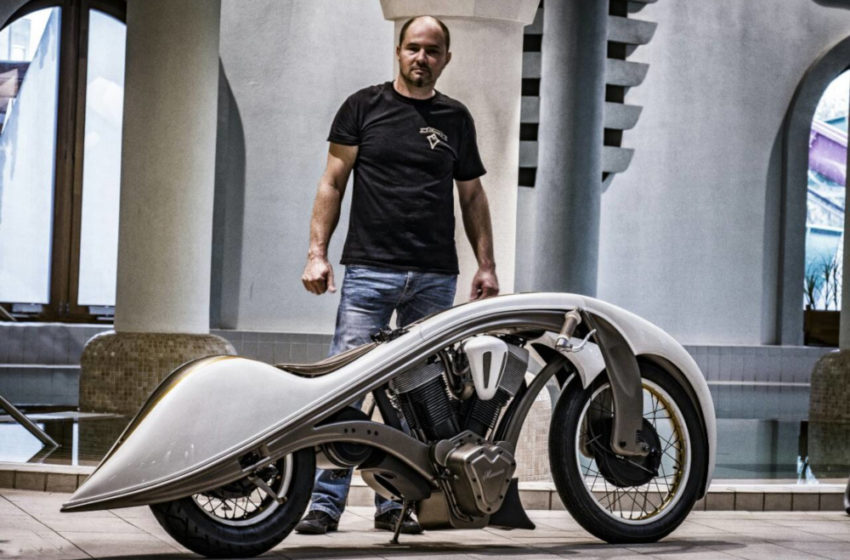 Custom : Karoly Orkonyi " The Custom Wizard "
AMD World Championship attracts lot of custom motorcycle building talent across the globe. The objective behind AMD Championship is to give fair result to its participants by making it more transparent.
To make it more effective below is how the AMD Championship is been judged
"Judging is by 'Peer Group Review' – it is the competitors themselves (plus a few carefully chosen custom industry VIP judges and past competitors) who vote for who will represent them as their World Champion.
'Peer Group Review' is how top scientific research and papers are judged by fellow scientists, and they use the same principle for judging custom bikes – who better to pass judgement than those who themselves build custom bikes? 
One talent that was found via AMD Championship is Karoly Orkonyi , based in Hungary Karoly is owner of Marusius Mako .
With two accolades on his name ( AMD Championship Competitor for Marusius D-100  and he third winner in the arena of the AMD Custom Bike Builder 2018 in the Freestyle class ) Karoly stands among the crowd.
With  Marusius 1700 build he made his own machine with the displacement of 1,700cc and that helped him to get the third winner in AMD. The name of the bike is " King Speedster ".
Design is futuristic and aerodynamic with front mudguard covering most of the tire on the front. Karoly himself made the frame that looks robust. Frame is made in such a way that it looks integrated with the entire structure of bike and it looks single unit.
Aluminium is used to make the body of the bike and the bike is completely hand made. In order to create Marusius 1700 engine Zoltan Balint provided there help.
Two color paint scheme is used in-order to make the work look more artistic. A dark brown paint scheme and cream color paint that neatly went with this work. Also the clutches were made by Karoly himself.Exhaust looks well integrated with the machine.
This piece of art was assisted by cylinder block and car cylinder head Robur LO 3001 was used.
Below is my conversation with Karoly to understand more about him and his work and plan.
1.Who is your inspiration in making such wonderful concepts ?
Karoly : There is a Hungaryan guy, named Szakáll. He was the first who inspired me and opened my eyes on custom  bikes.
2.Please let me know about the process of customs buildings?
Karoly : First i have to decide what style i really want.Next step is to make drawings and calculations. Then I start to look for parts and tools.I have to plan every single step and process to make sure my dream come true and the design and build looks very good.
3.How hard was it built so far and why?
Karoly : It was hard  physically and mentally because i don't use engine and other parts from the shelf,I have to put those together usually from wrecks and parts from bone-yards.Some of the parts like(frame,engine and its parts,front fork,and body) always made by hands.
4.Do you plan to sell customs to other parts of the world?
Karoly : I did not sell yet.I would like to build more bike to sell,but each bike will be different.I am in middle of building a exciting project.
5.Do you think electric motorcycles compete with the habits?
Karoly : I like the way as the electric engineering grow,but the maximum range is problem  still.
6.How do you see yourself in the future? 
Karoly: I think i found my way and found my love!!!!
7.You also plan to have your own unique parts like exhaust and other things.?
Karoly : I want to build unique engines and sell them.
Pictures of King Speedster by Karoly