Do we see a new BMW S1000RR soon?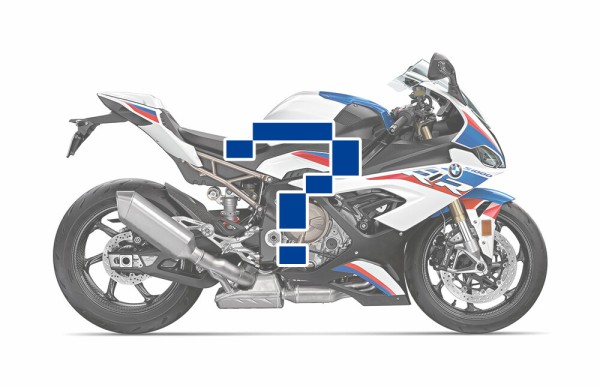 BMW seems to be working on improving S1000RR
"BMW is in the process of making few improvements to its much-acclaimed S1000RR, so we will see some related activity in the coming years."
M1000RR is a trademark application
BMW has applied for a trademark such as M1000RR. It is an HP4 RACE based on the old model S1000RR. 
The M1000RR is a superior grade of the current S1000RR that did not hit this point but raced.
A patent for an electric supercharger has been filed in the diagram of S1000RR
"Motorcycle with a supercharged internal combustion engine and method of operating such a motorcycle."
This is a BMW patent filed in January 2018.
It's a patent on electric superchargers. Incidentally power graph. 33 is horsepower, and 32 is torque. 
There are advantages such as high torque at deficient speed and sporty driving.
 Do you feel that the lower part is pressurized by electric power, and the upper part is usually pressurized? The current S1000RR is equipped with a variable valve mechanism. 
R1250GS video, is this easy to understand?
As expected, it seems complicated to have both an electric supercharger and a variable valve mechanism on a motorcycle. 
How about that area?
In the first place, we don't even hear the electric supercharger in the car. 
We think it's a patent for a system we've just taken, and we feel that it is not related to the new S1000RR.
However, we were also informed that BMW is developing an electric turbo.
Well, we feel like it would be better to adopt something like the M1000RR.
Rivals have exceeded specifications
S1000RR: 152kw / 13,500rpm, 113Nm / 11,000rpm, 200kg (M: 196.5kg)

CBR1000RR-R: 160kw / 14,500rpm, 113Nm / 12,500rpm, 201kg

Panigale V4R: 162kw / 15,250rpm, 112Nm / 11,500rpm, 193kg
V4R is super expensive, so it is hard to compare a little, but CBR1000RR-R is more costly than S1000RR in price and horsepower.
Maybe a minor change around 2022 model
By the way, the S1000RR was a 2009 model at the beginning and a new model in the 2019 model.
It has been for about 10 years. So the new model would generally be considered a minor change based on the current one.
The old S1000RR has undergone minor changes approximately every three years, and there have been small changes in six years.
There is EURO5, and it seems that the current model will not be crazy even if there is a significant minor change in 3 years.
We personally suggest a minor change theory for the 2022 model. However, there is no official information on this.
The content of the new model change is a mystery at present.
But we think that there is some power-up and other minor changes.
Development may be postponed due to the influence of corona, but the minor change is not too far because this is a EURO5 model.
---
Read More
Indian's patent for valve control for EURO 5
Harley registers its designs for new cafe racer and flat tracker
Yezdi India launch to happen in 2019
Japan gets Moto Guzzi Special