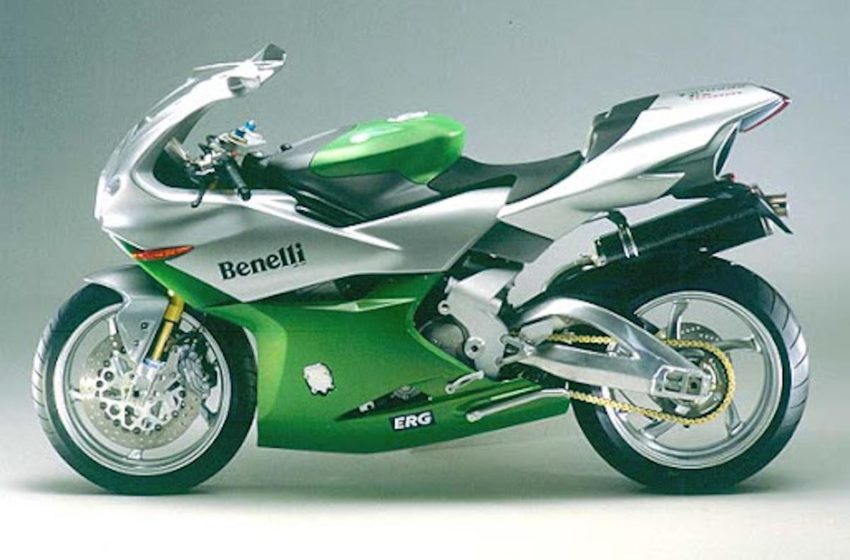 The choice of machinery for riders seeking a powerful, yet flexible, motorcycle without the handling difficulties or the discomfort of a race replica had never been greater.
Enthusiasts could opt for full-touring capability with strong performance, as exemplified by Honda's ST1100, or the muscularity tempered by good street manners of Yamaha XJR 1300, with plenty of other options between the other two extremes.
These liveries are born somewhere close to 2000.
Yamaha XJR 1300 SP 200
Origin: Japan
Engine: 1,251 cc, in-line four
Top Speed: 139 mph (224 km/h)
The hard hauling air-cooled " naked" four that first appeared in the 1990s proved its staying power in a changing market by remaining in production with some chassis updates.
Aprilia RST Futura 2001
Origin: Italy
Engine:998 cc, V-twin
Top Speed: 150 mph (241 km/h)
This versatile, faired, sports, tourer, with its ultra-modern look, is powered by a detuned version of Aprilia's one-litre engine. Its strong chassis features pliant suspension.
Honda ST1100 Pan European 2000
Origin: Japan
Engine: 1084 cc, V-Four
Top Speed: 134 mph (216 km/h)

SR1100 was powered by an engine built in a Honda car plant and equipped for carrying two comfortably over high mileages. It was supplanted by the ST1300 model in 2002.
Aprilia SL1000 Falco 2001
Origin: Italy
Engine:998cc, V-Twin
Top Speed: 156 mph (251 km/h)
Aprilia launched its race-winning RSV Mile in 1998, followed by this sport-touring variant. A fairly high seat is compensated by a great blend of comfort and performance.
Honda CB1100XX Super Blackbird 2002
Origin: Japan
Engine: 1,137 cc, in-line four
Top Speed : 188 mph (303 km/h)
Sensational on its original 1996 launch for its 185mph (298 km/h) top speed, the big CBR1100 four also proved comfortable and practical for touring or everyday riding.
Honda Transalp XLV650V-6 2007
Origin: Japan
Engine: 647 cc, V-Twin
Top Speed : 105 mph (169 km/h)
With Honda's super-dependable, three-valve, V-twin engine, the latest incarnation of the venerable Translap model (launched in the 1980s) was still useful as a commuter of a gentle tourer.;
Triumph Sprint RS 2001
Origin: UK
Engine:955 cc, inline triple
Top Speed: 154 mph(248 km/h)
Though not a big seller, the Sprint RS was a great competent sports tourer with a great sounding engine. It was boosted from 108 to 118 bhp in 2002and built up to 2004.
Benelli Tornado Tre 900LE 2002
Origin: Italy
Engine:898 cc, inline triple
Top Speed: 169 mph (272 km/h)
Reborn in the mid-1990s. Benelli built this state-of-the-art,super-light sports bike for the new Millenium, based on its racers. It has an all carbon-fibre tank and fairings.
KTM 950 Adventure
Origin: Austria
Engine:942cc, V-Twin
Top Speed: 140 mph (225 km/h)
Developed in gruelling Dakar rallies, the trail-style Adventure combines go-anywhere ruggedness with the grunty power of its V-Twin engine and eye-catching cosmetics.
Kawasaki Z1000 2006
Origin: Japan
Engine:953 cc, inline-four
Top Speed: 148 mph (238 km/h)
Not for the faint-hearted, this razor-sharp muscle bike with a revived 1970's Kawasaki model name uses its feisty engine as a stressed-frame member.
Source: The Motor Bike Book
---
Read More
Akra at 2019 EICMA
Harleys patents for a new engine
What to expect from 2021 Honda CBR1000R?
Classic Cars build electric Royal Enfield Bullet
Will Falcon 1400 replace the current Suzuki Hayabusa?