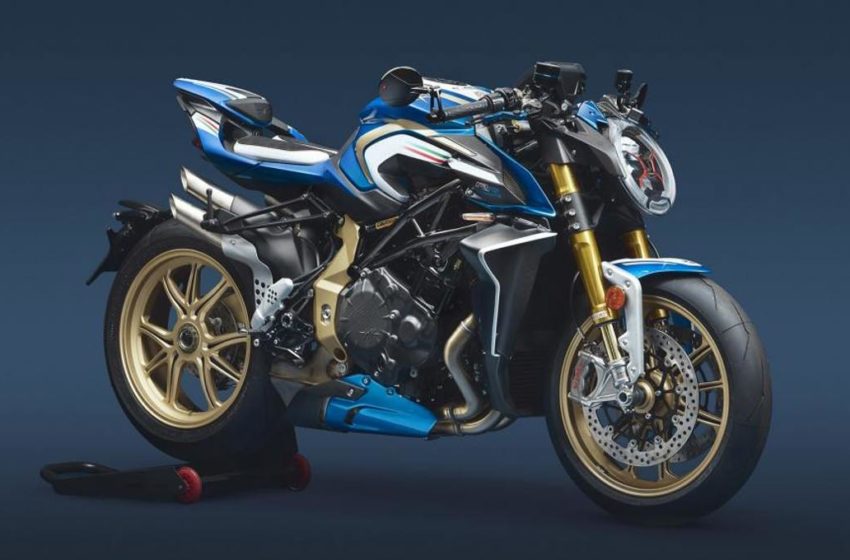 MV Agusta unveils the exclusive Blue and White Brutale RR
Exclusive
MV Agusta has unveiled the Brutale 1000RR with Blue and White paint scheme. That will arrive in a single exclusive copy.
However, there is no change in the technical specifications they remain as is.
The blue and white looks not only special but the good part is entire livery comes in 1 copy and that is very rare.
Paint Scheme
Blue and White paint scheme on Brutale 1000RR is dedicated to the victory of the Italian National Football team in 2006 that was held in Germany.
Blue and White paint scheme also takes cues from the 2013 Brutale 800 Italy model and also from Brutale America.
The fuel tank gets the tricolour flag at the centre With Blue, White and Gold paint scheme that looks top notch.
The frame and swingarm come in matte gold as well as the aluminium rims are forged.
There is a small carbon shell present above the headlight that shows the model is unique.
As far as the price tag goes it is under the wrap.
Source: MV Agusta
---
Read More
Honda Brazil unveils new 2020 CBR Models
How will the next Kawasaki Ninja H2 be?
2020 Honda NC750X
David Tyer's Art
Top 5 things about Suzuki GXSR125