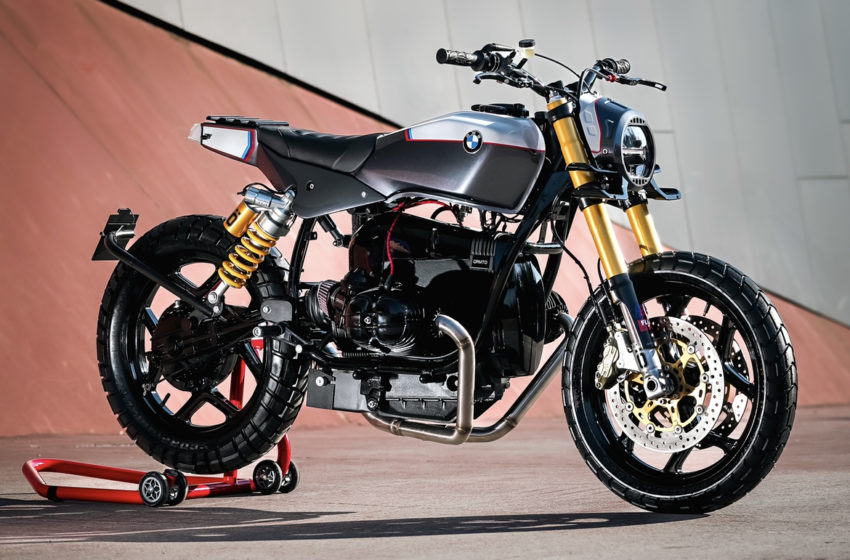 Gas&Retro's 1989 custom BMW R80RT "Different" for sale
It's no secret that custom BMWs are a dime a dozen in the motorcycle world. With so many more of the German marque's machines out there than any other manufacturer's. It's only natural that they should include most of any bike show or gathering. 
Of course, this also means that any builder working with one of these engines needs to bring something unique to the table if they're hoping to garner anyone's attention. This is precisely what Slovenian custom house Gas&Retro has managed to do with its latest bespoke R80RT build. 
The typical R-series build starts as a standard airhead but then grafted with outlandish. Aggressive bodywork pieces often further extend and accentuate the angular nature of BMW's fabled R silhouette.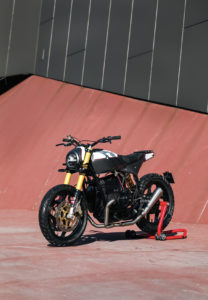 Different
While a creative approach in its own right, Gas&Retro has instead chosen to take a markedly different — albeit no less practical. Approach by adding a sizable tail fin to the rear of its "DISTINCT" R80RT conversion. 
This single addition completely changes the character of the build from one that is more aggressive than most to more subdued and elegant. Allowing it to stand apart from other similarly customized airheads in ways that would be otherwise impossible for any builder to accomplish.
Gas&Retro has fitted a Honda FT500 Ascot tank. Tail section with Husqvarna Vitpilen 401 LED taillight and luggage rack to modernize this popular platform.
Components
While high-end components like Öhlins suspension fore and Brembo brakes-equipped inverted front-end arrive from a Ducati 900SS.An electronically-adjusted mono-shock from an earlier Multistrada. 
However, the most alluring part of this might be its stunning aero-enhanced front-end. Now, this front end is responsible for generating downforce on the front. We further see KOSO Thunderbolt LED headlights supported by micro-LED indicators.
Further, Gas&Retro made sure the customer got the quad-aero-bolstering winglet setup.
The old saying goes, if it isn't broke, don't fix it. You could also say, "If it is broken, don't reuse it for this purpose—and remember to throw it away!". Gas&Retro subscribes to the latter school of thought as it is presently mid-facelift on an electrifying BMW custom.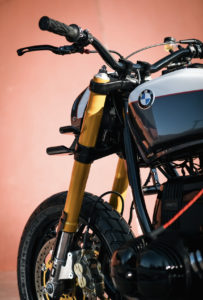 Elegance with Style
Gas&Retro didn't want this project to deviate too far from its stock originality. The resulting build carries a thoroughness that only stems from scrupulous attention to detail. And uniqueness while simultaneously having just enough flair. And agglomeration that has permeated the entire scene over recent years (one could call it 'Elegance with Style'). 
Of course, details are everything for bespoke fabrication and design. So Gas&Retro was sure to cover all angles with their latest creation.
Engine and price
Stock airbox gets replaced with the DNA pod filters, complementing the two-into-one exhaust that gives a GP flair. They made some monumental additions to the bike. Starting with the digital console, a bespoke swingarm-mounted license plate, and rear sets from Tarozzi.
Not to forget the Domino Throttle and the TRW Moto handlebars, mo. unit control box arrives from Motogadget.
If you're a fan of BMW's modern R8 midship-mounted boxer engine but prefer the stylish looks of an excellent ol' airhead air-cooled dual-carb boxer, you're in luck. Slovenian shop Gas&Retro has created the perfect blend of old and new on its "DIFFERENT" build. Which centres on a 1989 BMW R80RT, and you can buy it here at Bikeshed, which retails at €17,499 (~$19,050).