Kawasaki Indonesia unveils official photos of ZX-25R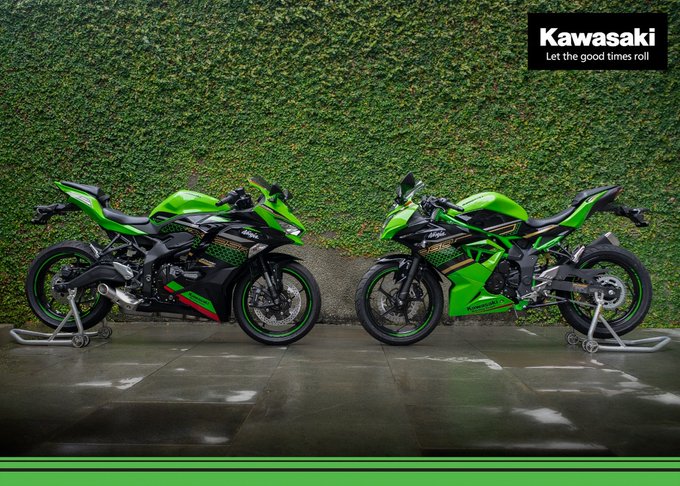 Last when we heard about Kawasaki ZX-25R is a few days ago when Kawasaki was trying to fix minor issues with ZX-25R engine.
Plus, there are substantial rumors about the naked ZX-25R. That is going to be a Mini Z-H2 series. Well, this again is a reasonable proposition from Kawasaki, and yet time will tell.
The motorcycle community may like to see the naked ZX-25R that is mostly a stripped version of naked Z H2. 
And who knows Kawasaki may want to stack supercharger in it as they brought inline-four in 250cc segment. The plan may sound surreal but not impossible to achieve.
Lil Brother and Big Brother, Ninja 250SL X Ninja ZX-25R pic.twitter.com/qlEE6ZYUL7

— Kawasaki Indonesia (@KawasakiLovers) January 9, 2020
【カワサキワールドに「Z H2」「Ninja ZX-25R」を関西初展示!】

東京モーターショーで国内外に大きな反響を呼んだ「Z H2」と「Ninja ZX-25R」を本日よりカワサキワールド(神戸海洋博物館内)にて展示しております!

ぜひお越し下さい♪https://t.co/FlAkLwasJS#ZH2#NinjaZX25R#カワサキワールド pic.twitter.com/Mb94nS03ZS

— カワサキモータースジャパン (@Kawasaki_JPN) December 3, 2019
Kawasaki Indonesia
But on the current note, Kawasaki Indonesia has released the official photos of ZX-25R on their Twitter handle.
So, the vehicle released by Kawasaki Indonesia is probably a pre-production model produced (assembled) at a factory in Indonesia.
Kawasaki World's ZX-25R will be on display until spring, and in Indonesia, it will be spring, or it may arrive in April 2020. 
So do we also mass-production models at the same time? It arrives soon, so we think it would be good to see the release date in Indonesia in spring or April.
In Japan, we will see it in September 2020. So Japan will have to wait another six months.
ZX-25R vs. Ninja 250SL
Here is the Ninja250SL from the official photo above, flipped left and right, and layered on the ZX-25R.
The ZX-25R is slightly tilted inward, but the size is surprisingly small.
Due to its sheer compact size, the ZX-25R doest look like it has inline-four stacked in it.
Ninja250S L: 1,935mm

Ninja250: 1,990mm
For the other parts of the world, the date has still not announced yet.
We may see the first ZX-25R in Indonesia than in Japan.
Price
Price is an essential factor, and it may stay a little over 900,000 in Japan.
---
Source :  Kawasaki Indonesia
Read More

Third Kawasaki Z H2 teaser
Truvor " The Carbon Fibre Electric Scambler "
How will the next Ninja H2 be?
Information on Kawasaki's electric bike