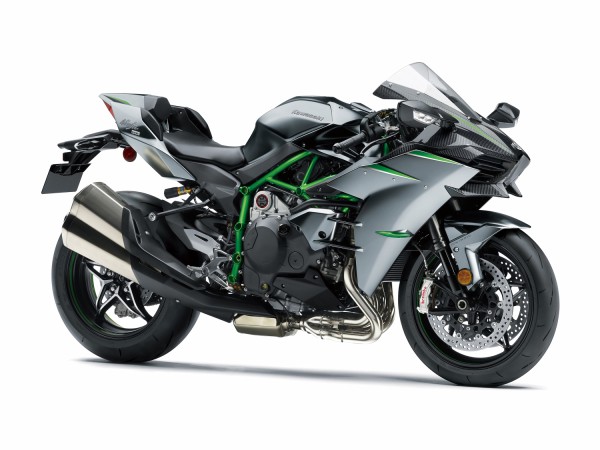 Kawasaki unveils 2020 Ninja H2 CARBON
Kawasaki has unveiled the new 2020 Ninja H2 CARBON model. Let's take a look at it. In our previous article, we published was about what do we expect in the upcoming Ninja H2?
Variable cowling: Kawasaki has made the variable cowling. The function of the cowls, especially the rear ones, will help the rider to get a stable riding experience. It is the same as that of the rear variable spoiler in the supercar.

We also get to know that Kawasaki may increase acceleration performance with the help of acceleration control.

The 

new Ninja H2

 comes with new tires for better performance.

Supercharger and ECU to get updated.

26PS/500 rpm 

Horsepower

, there is a rise in power.
Ninja H2 CARBON 2020 model color lineup
Mirror coat mat spark black x candy flat blazed green.
【Ninja H2 CARBON 発売!】
川崎重工グループのガスタービンや航空宇宙など様々な事業の技術の結晶であり、カワサキのストリートモデル史上最大のエンジン出力を実現したNinja H2 CARBON。カワサキプラザにて4月1日(水)より販売!https://t.co/BrY1ykWJru#Ninja #H2 #Kawasaki #カワサキ pic.twitter.com/OenJC4S7v1

— カワサキモータースジャパン (@Kawasaki_JPN) January 15, 2020
Price and release date of the 2020 model Ninja H2 CARBON
2019: 3.3 million yen (3.564 million yen including tax)

2020: 3.3 million yen (3.63 million yen including tax)
The price is unchanged, but there is a difference of 66,000 yen because the consumption tax is 2% different in Japan.
The release date in Japan is April 1, 2020.
Summary of changes in Ninja H2 CARBON of 2020 model
No major changes
Although it is on the official page, here is a comparison. Yes, there is no change.
The selling method has changed in Japan
As we told you the other day, Kawasaki has also reorganized its sales network, and the large one is now exclusively for Kawasaki Plaza.
There was a grace until the end of March, but since it will arrive on April 1, you can not buy it unless it is a plaza. 
Then, the 2019 model was a limited time order model as described above, but there is no such description for the 2020 model. It became the same treatment as the standard model.
There is a story of the new Ninja H2 in the 2022 model, but is it the 2021 model?
April 2019: Big minor change rumors. Acceleration performance rises or EURO5 conformity

April 2019: Kawasaki has developed a variable wing

December 2019: The new model arrives in 2021. But isn't it announced in 2021?
It looks like it will be a new model in 2021 or 2022.
Kawasaki patent filed in June 2018, published in December 2019, such as a triple injector like H2 or a direct injector patent, has been released. 
The acceleration of Ninja H2 is average, and the injector can improve it. It matches the information.
So, at this time, the 2020 model was announced, but there was no color change. It is quite unusual for Kawasaki to have no color or decal changes. It's good to see it as the end of the model. There is no 3D model yet.
---
Source : Kawasaki Japan Twitter
Read More
Major changes to new Honda 750 series
Spied 1290 Super Adventure 2020 model
Lower displacement 338 Harley will arrive soon