Suzuki Katana gets two new paint schemes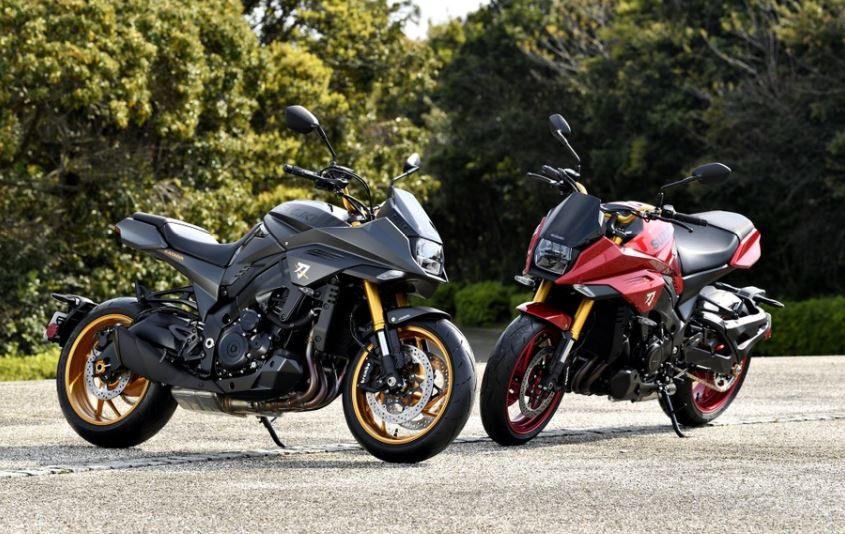 Two of Suzuki's large motorcycles "Katana" wearing unique colours. Two of the reference exhibits of the new Katana, which was revived in May 2019. 
And scheduled to be exhibited at the Tokyo Motorcycle Show, have been released at the "WEB Motorcycle Show".
Breaking cover at last year's INTERMOT appear, the 2019 Suzuki Katana takes an ancient classic and makes it modern again.
True to the concept we have seen in past after a long time. The modern Katana is cutting edge and takes on the famous lines from the 1980s.
Essentially a Suzuki GSX-S1000F with unused bodywork. The modern Katana isn't maybe all-new, within the most genuine sense of the word.
But the motorcycle inspires positive feelings for those who keep in mind its past; and a modern era of rider. 
The 1980s styling fan is fair presently getting to be a thing, making this a well-timed launch.
From its 999 cc engine, Katana will churn 147 bhp. The electronic package consists of slipper clutch, ABS brakes, and traction control with three levels of adjustment.
Red 
Katana, which has been used in achromatic colours such as silver and black. Now has Candy Red to give it an unprecedented quality and presence.
By using dark red, which is similar to the body colour on the wheels. The overall body feel is expressed.
Luxury gold is added as an accent to the handlebars and front forks. According to Ken Kawaguchi.
The two-wheel design group of Suzuki said that the seat was changed to a carbon pattern, and the texture of the ball steel used for Japanese swords was expressed.
Decals such as "swords" written on the side body are also special colours.
Matte black 
To appeal to a different world view from Katana until now, we adopted matte black used for fighters and the like. By adding deep gold as an accent to Matt Black. 
It is said that the rear side of the newly adopted carbon pattern seat resembles the ball steel used for swords to express Katana-likeness. Gold is also used for seat stitches and decals.
Photos  by Naoki Yukioka
---
Read More
Do we see a new BMW S1000RR soon?
Do we see Honda Scrambler 500 soon?
M V Agusta Rush price released