Tamarit brings a custom 104 bike known as JBBS
The 104 bike, known as JBBS, collects some of the most representative characteristics of the Cafe Racer genre to which it belongs. Technology, design and know-how; on a motorcycle are already part of the Tamarit Elite.
JBBS 104
The used emblematic Bonneville engine was to begin the transformation on this occasion. A project designed within the Cafe Racer style, the best known of the neoclassical styles.
Following the desired final result, the keel developed for the Jade project, our motorcycle most acclaimed by the national and international press, has been added to 104 JBBS. A piece that gives it an aesthetic plus and more aerodynamic shapes.
A motorcycle that does not follow fashions. A design inspired by black, grey and white tones. Colours accompanied by graphite nickel plating of the rest of its components.
An elegant and timeless design whose creation has been possible thanks to the trust of Jordi, owner of 104 JBBS. Jordi gave us free rein to propose some ideas in the pipeline, and he resounded YES to everything suggested.
One of the main components to highlight in this project is the Springer fork, replacing the home one to improve suspension when riding. An improvement that helps to bring the motorcycle's behaviour closer to those intended for the road.
It is a custom-made project but approved by engineers to meet the basic standards that allow it to pass the ITV tests without any problem.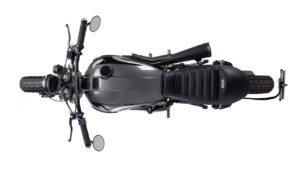 Motogadget
After finishing the transformation of the motorcycle, if the reform requires it, our engineers carry out the homologation of a technical project by which the bike with the modifications made is allowed to circulate freely.
One of the must-haves, the Motogadget odometer, has been included in the transformation for a cleaner, more minimalist finish. It is also worth mentioning the incorporation of Motogadget's control and intermittent cones.
At Tamarit, they always look for the best optimization of our motorcycles, and the control units work as the brain of the motorcycles.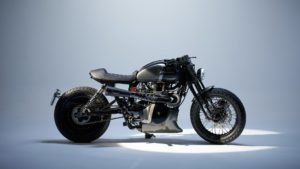 For this reason, Tamarit has involved the Motogadget control unit in our projects, the most complete on the market. Thanks to its functions and the App, you can monitor the motorcycle through your Smartphone.
Mallorca
Project number 104, JBBS, is going straight to Mallorca. An island that always brings us joy and through which several of our motorcycles already circulate.
The team at Tamarit have to thank Jordi, the bike owner, for his trust in our ideas and the team. It has been a pleasure working on his motorcycle, and the team at Tamarit are glad to know that he already enjoys riding it through the streets of Palma de Mallorca.
If you are thinking of buying a motorcycle or transforming one you already have, take the first step, fill out the form and start your project with us.