The ruthless 'Akira&Ducati' concept from James Qiu
The Akira Neo-Tokyo official concept design from Ryan Hong has been unveiled, inspired by the 1988 classic movie directed by Otomo. 
Akira
As a tribute to the 2020 Tokyo Olympics and part of the world's most famous science fiction manga, the original design arrived in 1988. The key feature of the futuristic bike is its incredible low stance.
It's no surprise the iconic bike from Akira was a fantastic machine to look at, especially considering its futuristic setting in Neo-Tokyo. The movie uses this image of the motorcycle as a bright red beacon and puts it in stark contrast to the dull skies of Tokyo. 
When noted, concept artist Ryan Hong designed this bike. He aimed to take on the look of the bikes and the mechanics. The design quickly grew so large it had to be made into a CG artwork. 
This design aims to reinterpret the visuals and mechanics with a contemporary perspective. Still preserving its original elements. The iconic original bike will be reimagined in a new light, aiming to make more out of the technology described in the story.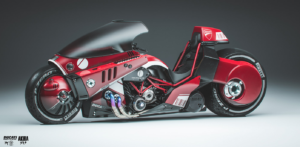 Akira Ducati
However, now Shanghai-based digital artist James Qiu goes one step beyond to integrate the original Akira with Ducati's Desmosedici. First impressions are WOW.
The Akira Ducati concept design by James Qiu is a hyperbike. That has made an impression with its futuristic features. This design explores the new possibilities of hyperbikes. 
Aside from the metal body, the bike also boasts a combination of equally essential components for their functionality and improving this design's look. Such as its lightweight wheels, tubular handle frame, and short external large Termi exhaust pipes with large Pirelli tires.
And embedded round headlights on the front fenders just in front of two large air intakes and a sleek design make it look like a hyperbike.
The Akira Ducati includes a fully-integrated cockpit to become almost one with the motorcycle. One of the main focuses of designing this bike.Which was primarily not a street-legal or the standard vehicle — emphasised aerodynamics.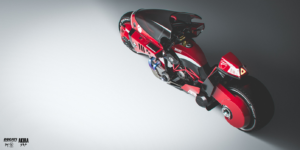 Futuristic 
The powerplant and the mechanics are hidden in the bodywork, thus making this a much more streamlined bike. Thanks to its integration, it is made to be physically and mentally connected with the rider. 
James Qiu's vision for this futuristic Akira Ducati would give anyone who rides it a deep appreciation for imagination. Plus an appreciation for how Ducati motorcycles would turn into masterpieces of art and technology.
We can also see the large swingarm connected to the rider's seat and the large rear wheel. The large windshield helps the rider to protect from the strong wind.
While Akira did come true, will James Qiu's design Akira Ducati find space in the manufacturer's mind?