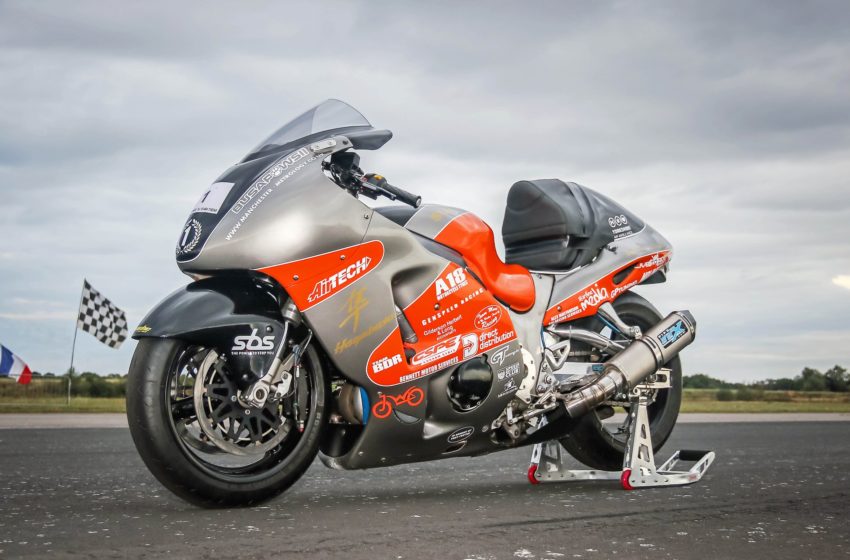 World's fastest Turbocharged Suzuki Hayabusa is on sale for Euro 34,000
We all have heard Suzuki's primary weapon in the arsenal, and that is "Hayabusa," but have you heard Hayabusa clocking 425 km/h and that has 650 horses. Now, this is seriously fast.
Oh Lord, we too, are thinking. Does this kind of Hayabusa even exist?
Well, it does, and to get one, we expect your pockets to be thick as this will cost you similar to that of a high- end sports car.
While there has been Hayabusa on the motorcycle scene but this is different. It is the work of science and art from Mick Ellis and his wife, Becci. Becci also holds the female speed record. The bike is on sale for Euro 34,000.
We assumed it could cost high, but for 650 hp, we think it is relatively low.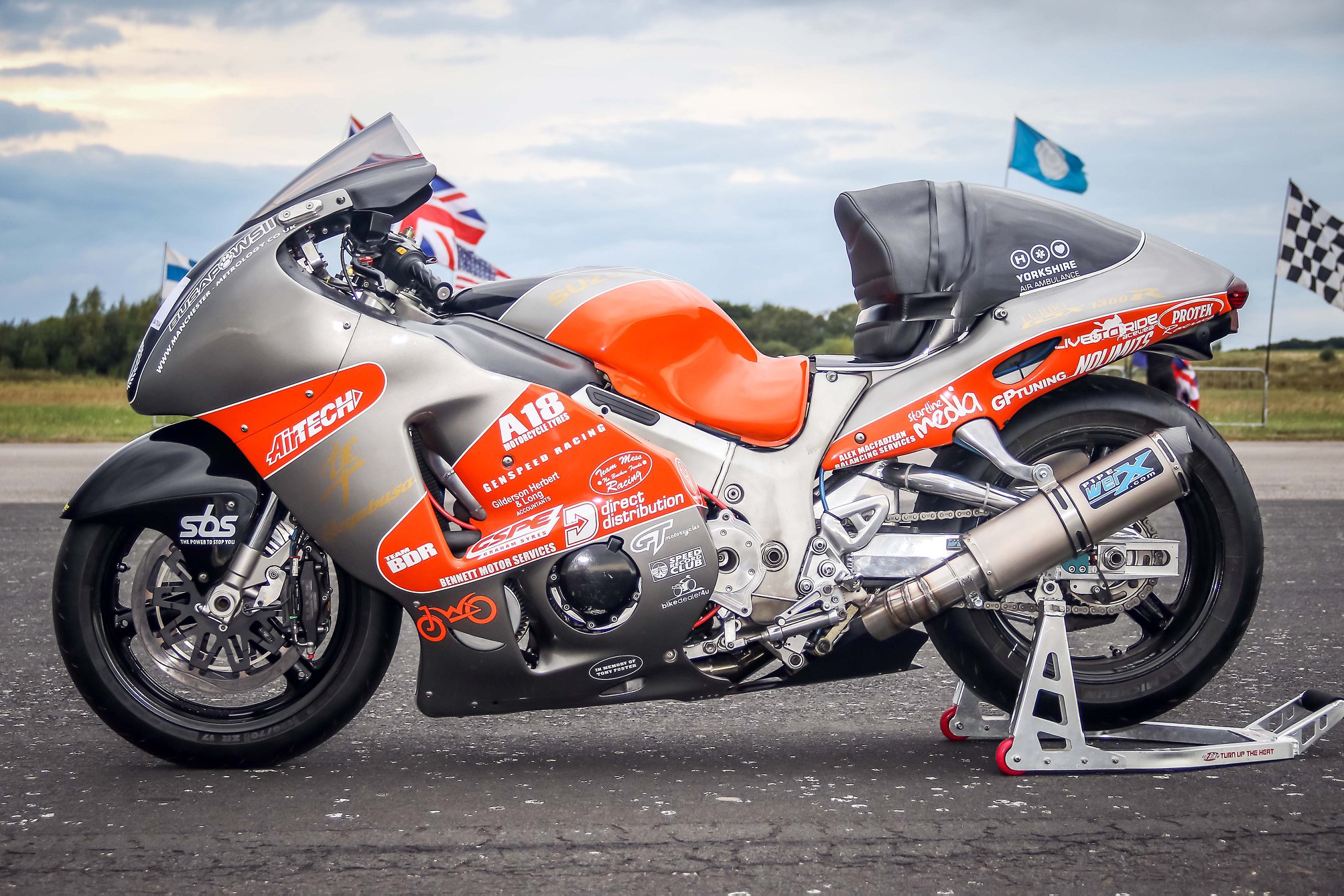 What does it get?
The bike is developed in collaboration with BDR performance, and it took more than 17250 hours, which is close to 2 years. The 1,300 cc – 4 cylinder comes with Garrett GT35 turbo, all-new gearbox, new injectors, plus other crucial components. Plus, there are changes in aesthetics, as well.
This 650 horses Hayabusa is on sale, and if you want to get hold of this, you can connect with Mick on his Facebook handle.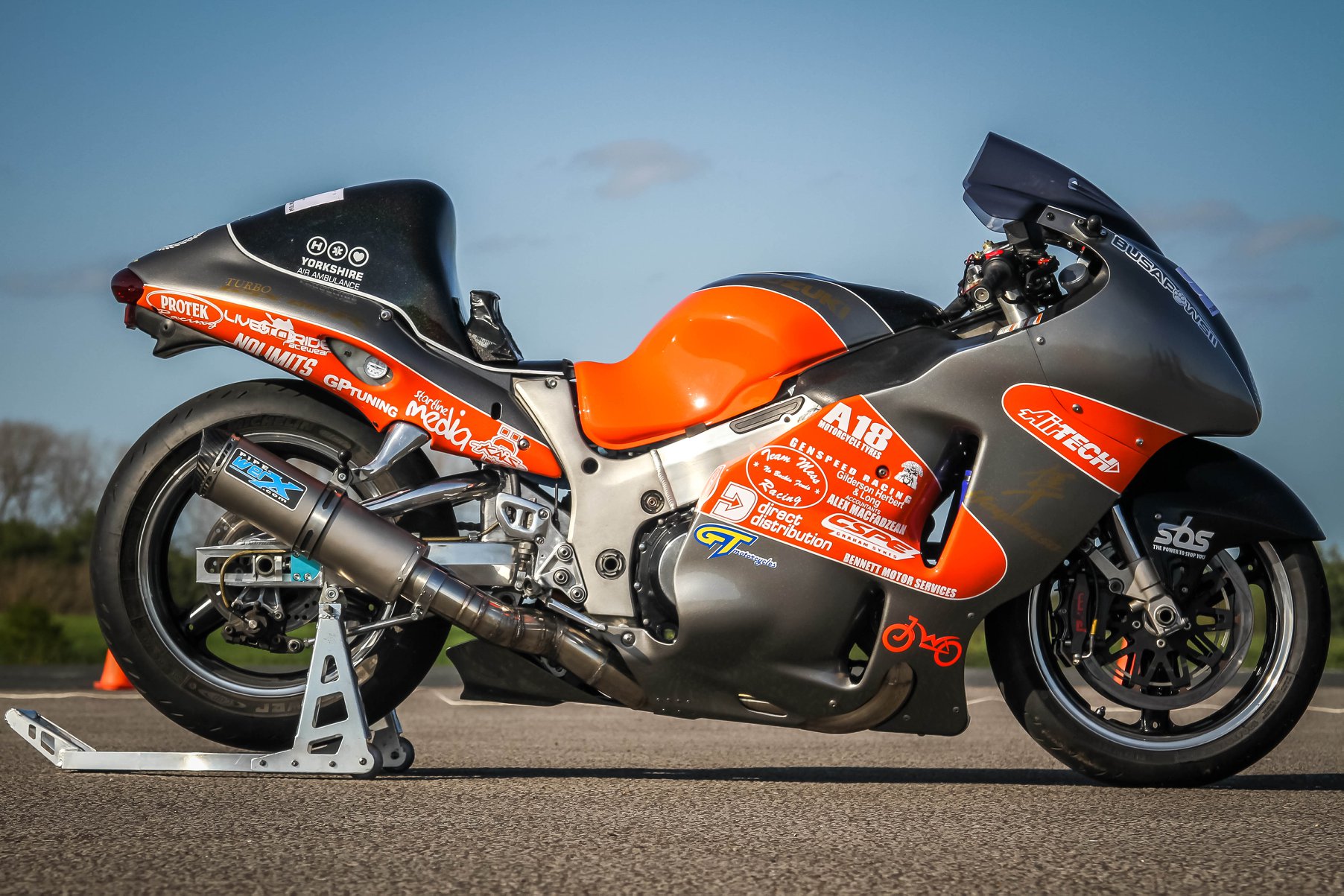 Specs
TURBOCHARGED 1300cc SUZUKI HAYABUSA
LAND SPEED BIKE BUILT AND PREPARED BY MICK ELLIS, BDR PERFORMANCE ENGINEERING
650BHP+
TURBO HAYABUSA USING 119 OCTANE FUEL WITH PROVEN TOP SPEEDS OF OVER 264 MPH
SPECIFICATIONS
ENGINE:
▪ Original Gen 1 Suzuki Hayabusa 1300cc
▪ Garrett GT35 turbo (supplied by GT Turbo's)
▪ Flowed & polished cylinder head
▪ Weisco low compression pistons
▪ Carrillo conrods
▪ Balanced crank (Alex Macfadzean Balancing Services)
▪ Undercut gearbox
▪ Billet output shaft, with BDR Outrigger
▪ Selector Billet shafts,
▪ UPPERTON lock-up clutch
▪ Redesigned Intake charge cooler
▪ The cold side boost controller
▪ Standard spark plugs
▪ 1000cc Bosch injectors
▪ Bosch fuel pump 044
▪ Remote oil filter
▪ Heavy-duty valve springs
▪ One-piece valves
▪ BDR Air Shift system
▪ MoTeC M400 ECU & Datalogger
▪ Motec CL3 Dashboard
▪ Complete rewire by Brad O'Connor & Mark Wells
▪ BDR exhaust pipes ▪ Silencer (Pipe Werx) 102db
▪ 650bhp plus
▪ Using 119 octane fuel
FRAME:
▪ Standard Hayabusa frame & subframe
▪ Steering geometry altered by John Warrington Motorcycles.
FRONT END:
▪ PFM discs and calipers
▪ Forks, yokes, and wheels are standard
▪ Forks raised through yokes to lower the front
▪ SBS Pads.
REAR END:
▪ Swinging arm 4 inches longer than standard, machined by Graham Sykes Performance Engineering,
▪ Nitron shock
▪ Wheels are Standard
▪ Standard disc & caliper with SBS Pads
▪ EK drag racing chain
▪ Various machining by Dave Taylor and Tom Armitage.
▪ All steel (one-off) selection of sprockets *
BODYWORK:
▪ Standard Hayabusa bodywork
▪ Race nose panel with no headlight or indicator cut-outs
▪ Aftermarket seat hump.
Also, we hear about Suzuki's upcoming Euro 5 Hayabusa to arrive in 2021.
---
Read More
Krax Moto's Golden Gun
Gallery of Suzuki Hayabusa Venom from Bulgaria
Suzuki Hayabusa's production for United States
Do we see Suzuki Falcon soon?