Yamaha working on multiple turbo projects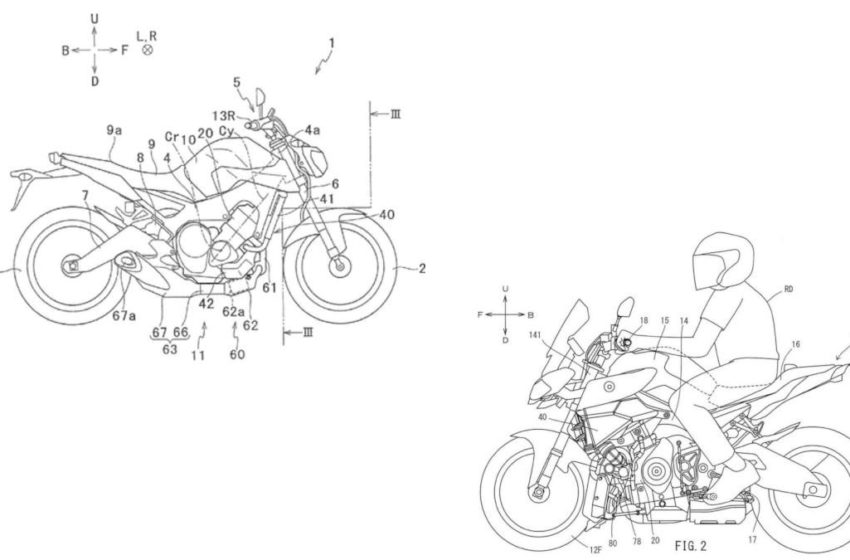 We understand Yamaha is secretly working on the Turbo project. However, the latest patent is related to MT-10. At the same time, it could be multiple Turbo projects which Yamaha is working.
Last year in October we were talking about the Turbo patents filed by the big fours.
Honda, Yamaha, Suzuki and Kawasaki.
Turbo MT-09
And last year we did talk about the much ambitious Yamaha's turbo MT-09.
The motorcycle below is MT-09, and there was a patent filed by Yamaha in June 2017. 80 is a turbocharger, and the engine has two cylinders. 
What we are looking here is the no of cylinders accepted by Turbo and Supercharger technology.  
Turbocharger for improved fuel economy and output.

Well, this could be one reason wherein displacement is sized down.
However, last year Yamaha had much of its focus on electric bikes. 
Turbo MT-10
Additionally, now we could see one more patent filed by Yamaha, and it again talks about 847cc, three-cylinder engine. And this looks different from the above. The above patent comes with two cylinders.
Coming back to the current patent.
However, there is catch here the earlier MT-09 847cc had a 78mm bore and 59.1mm stroke while the current patent has a 73mm bore and 67.5mm stroke.
Now this means a better performing engine at low revs. The motor generates 180hp power at 8,500 rpm and 176 Nm of torque. Further, it also comes with direct fuel injection and variable valve mechanism.
The advantage of the mechanism is before the spark plug ignites. The fuel directly goes into the combustion chamber, which saves much-unburned fuel. 
Yamaha also makes many automobile engines. So we feel they could often use the turbo technology. 
As far as the components go maximum come from the MT-10 like the tank, wheels, seat, suspension, swingarm. No doubt the structure is inspired by the MT-10. However, the prototype shows more. 
The prototype does weigh twenty kgs more than the current MT-10. It will be useful to see how Yamaha thinks to make it lighter. Should there be carbon fibre components? Ohh we may never know.
Plus as per Yamaha the carbon emission is thirty per cent less compared to the standard combustion engines.
Here Yamaha is going beyond the Euro5 norm, and the new Turbo mechanism comes to align with Euro6 compliance.
So there is a large possibility Yamaha will come with MT-09 or MT-10 Turbo or both.