Custom: Mandrill Garage's ' Red Velvet Cake '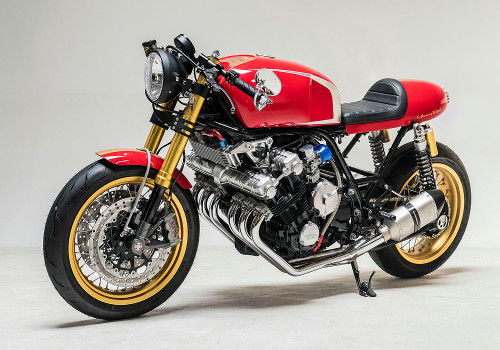 CX500 and CBX1000 was the brainchild of Shoichiro Irimajiri who with Honda was moved from building F1 engines to Honda's Motorcycle Division.
Equipped with 6 cylinders the CBX1000 made 105 hp back in the late 1970s that was not only regarded powerful but had had a good performance.
Now Mandrill Garage a Chinese custom motorcycle house was assigned by a motorcycle collector to make a sleek cafe racer out of CBX1000. 
The output that came out well you could see it.
How was the build made?
The base model used was 1981 CBX-B a tourer. It had a front fork of 39mm that is adjustable. Bags as well as fairings. However, the chassis and engine were the two most important aspects of the bike.
The first step was to see that there is a review of chassis and after that was it was repaired to get the proper alignment of the bike and in the
In the second instance, the rear part had to be cut as it carried a lot of weight and then it was substituted with the shorter and lighter part.
The third step was to check the swingarm and see how the Kawasaki ZRX could be fitted to the build giving the double shock absorber.
The design was made curvier by opting aluminum-made components.
Cherry red and Metallic grey paint schemes motivated by Oberdan Bezzi's design made the build look stylish and classy.
The engine is restored and not modified. The exhaust system is 3 by 1 to match the entire build. The oil cool system is again substituted with the racing system.
6 Keihin took the place in place of cranes.
Braking duties were performed by Brembo radial brake calipers and 320 mm floating discs.
CNC Machines, spoked wheels with a simple electrical system was fitted.
The last step was to carry out new motor mounts and those were mounted to reduce the amount of engine vibration and noise feel.