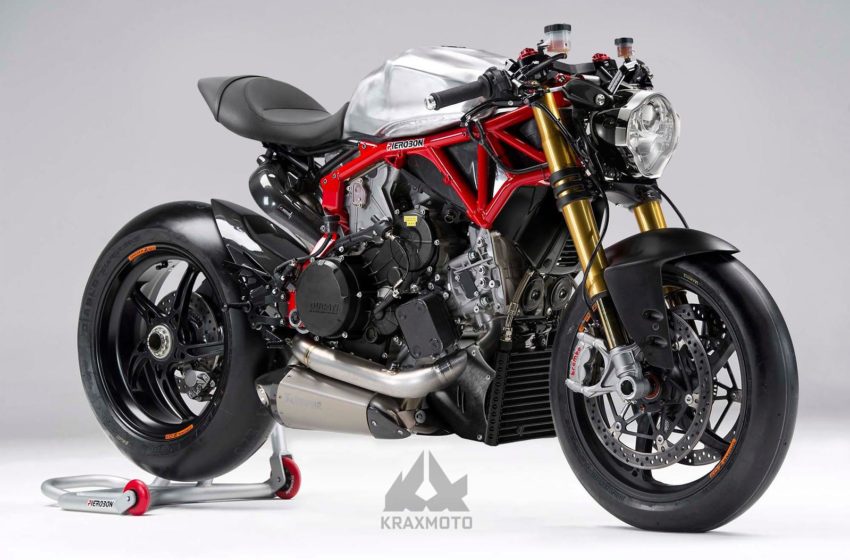 Krax Moto. The talent is unleashed
French design house Krax Moto is not only famous for there fresh renderings but also the way they look at the motorcycles.
And the most crucial, we would like to understand what makes them so exceptionally talented.
Early years
1. How did Krax Moto start?
Krax Moto: In 2006, I was passionate about motorcycles and above all by modifications. And I bought and read all the magazines I could (They were a lot at the time).
From some years and before I discovered Photoshop. Then I cut parts from the magazines and pasted it together on a notebook to create concept bikes.
Later got a foothold in the motorcycles parts creation during my studies in Design, working for Marco Design. A precursor in accessories like LEDs rear lights with integrated blinkers.
When I was 24, and I knew I wanted to work in and be a part of this area, but didn't know-how.
The internet was blowing up, but I couldn't find any webshop where I could buy the accessories I wanted for my bikes. So I decided to create a webshop the way I had in my head.
I went to my mate Max, who was in engineering studies, to ask him to be part of this adventure. He stopped his studies, and we created krax-moto.com.
We worked hard some months than on 1st February 2007 created the company and the webshop opened one month later.
Cool naked CBR
Krax Moto
2. What is the meaning of Krax?
Krax Moto: "Krax" is simply the contraction of "Chris" and "Max". We had thought of many other names before. With words were cool at this time, as "design", "concept", however, we decided to stay on Krax.
Not the most straightforward name to say and to write, but it's our name. Max is a friend and a brother at the time for me.
Sometimes a husband (nothing sexual but we spent most of the day together :D). And other times a father who calm my enthusiasm whenever it overflows.
Naked GTR 1400
Talent unleashed
3. What goes on in your mind when you start to design any bike?
Krax Moto: My dream was to become a bike builder, so I try to live it by proxy with my computer.
When I start to design a bike, I simply want it to make the way it would be in my dream world, without technical, financial and legal restrictions. 
It could be a naked bike, a trail, a sportbike, I don't care. I just want to draw it the way I'd like it. Ok, I prefer naked bikes :).
And I want to see where I can bring it. Sometimes I know the goal I want to achieve (not always as lovely as expected), but other times I'm just curious about what I could do with it.
I try not to imitate what is already present; however, it is impossible to create something totally; you only transpose things you have already seen with parts of your imagination.
On the other side, you can go against your conventions and it is a sort of creation, almost nowadays.
The more sober and straightforward the bike is, the more I'm inspired. Nowadays, a lot of naked bikes have a lot of plastic body parts or engine. 
And frame covers to hide cheap conceptions or ugly elements imposed by some legal restrictions. It's sometimes enough to remove it to discover a more exciting bike.
I'm not a designer because as I said. I don't take any technical restrictions into the account and start from an existing bike. I'm just a virtual bike makeup man. 
I admire the designers who manage to create exciting motorcycles today, with all the restrictions they have.
I'm sure electric motorcycles will bring some crazy ideas and designs! I can't wait to see it in the coming years.
The narrow  and sublime CBR
Crucial inputs
4. According to you if you are a motorcycle enthusiast, what should one look in the bike should it be aesthetics or performance?
Krax Moto: Aesthetic and performance are, of course, relatives. Everyone has his view on power and look according to his experience, budget, use, and taste.
But a powerful motorcycle should be aesthetic, as for good Design: "the form follows function". If you have power, you go fast, so you need big brakes.
A reasonable frame, performing suspensions. And everything required to have a well-functioning and "rideable" motorcycle.
When you love bikes, you often like high-performance elements. A Superbike fork will be more beautiful than a classic. And a massive sexier aluminium swingarm, race callipers or displayed are billet parts on a fireplace.
It's true these parts are useful only on very powerful motorcycles, rode on tracks by professional riders, however, "The heart has its reasons : )".
A Streetfighter V4 or a Superduke engine is not exploitable on the road, and they sell it like hotcakes.
It is also what marketers target. When you buy a bike (or anything else). You buy an idea, something represents what you want people to think of you.
However, to me, a motorcycle, whatever its use or power, should put across a dynamic line. It sounds like a ready-made sentence. However, I like a bike when it makes me want to jump on it to play with it.
I must admit I like large engines and powerful bikes and it's apparent in my designs.
Even in real life, got a Hayabusa because I wanted a large motorcycle with a large engine than I stretched it and put a 240 rear tire.
It's ridiculous, and I may have something to compensate, however, it was a dream I had from years. 
This bike represented something for me when I was younger.
Today I still have it and love it, and it's my spaceship. But I changed my mind a bit: If I had to buy a new bike tomorrow. I don't think it would be a mighty one.
The problem is financial issues mostly in Japan these last years have influenced the looks of the bikes. A fewer noble material, fewer quality parts, more plastic.
Today they can't quickly build a beautiful midsize motorcycle because of the development and building costs, while they have to sell it at a low price.
As in many business markets today, either you sell cheap products. Or you have to make luxury, while it is hard to find the right products in the middle range.
I don't know which motorcycle I'd choose but for sure one, I would quickly modify.
You are right it is Star War
Electric or conventional
5. What do you prefer electric or a conventional bike?
Krax Moto: I keep my mind open. As I said, electric bikes bring new horizons in design and technical solutions.
I won't talk about the environmental aspect because don't have enough knowledge to give my opinion, and it is not my role.
Riding an electric motorcycle should be a brand new experience and I would try it soon: unique sound. On-off engine character, different weight distribution.
The design will change with the evolution of the electric engines, of the 3D printing, of the materials. A new area is coming, and we have to deal with it.
Supreme Katana
6. Do you think electric bikes will stop the conventional motorcycle as a whole?
Krax Moto: The answer to this question involves political and environmental aspects.
The only thing I hope is we'll find new solutions to have fun on two wheels respecting the planet the more we can. 
However, we can find and create this fun whatever the engine we have, it's just a way of thinking.
Much work has to been done by manufacturers for both energies, to find a long term solution, which is not the case for now.
Let's take what we have and make it fresh.
The Beast – Panigale Pierobon
Entrepreneur, Innovator or Designer
7. What will like to call yourself an Entrepreneur, Innovator or Designer? And Why?
Krax Moto: I am just a lazy man who finds energy achieving some fun stuff I have in my mind. Sometimes I can earn money with it, other times it's just for pleasure and other times I lose much hahaha.
I may have a part of an entrepreneur because I tried much other business since Krax. I can't stay for many years doing the same thing.
My objective is not money but to try new things. Now, this meant I'm not a commercial.I work with passion, and I find entertainment in discovering new ways.
I have moved to another part of the world at the beginning of the year, and I'm starting a new funny business here. We'll see.
Naked and sports combine
Perfect bike
8. What makes the perfect bike according to you?
Krax Moto: Hard question. First of all, it's a motorcycle and it attracts me even on its side stand. I need to be seduced (and a little scared) by its look.
I prefer naked bikes as I like the short rear, fat tires when the technical elements are visible. And like high-performance parts, I don't like useless covers or body parts. 
I hate when the light or the headlight is too high and don't like belly pans. In brief, it has to be simple but well equipped.
Imagine a light vehicle you could jump on and quickly make a little ride whenever and wherever you want, feeling like you are flying.
But the perfect bike doesn't mean the most beautiful bike. The most beautiful motorcycles of all times for me have nothing to do with what I have just said.
I mean, I dream of a 916 or a ZX7R SBK in my garage, but not for a daily ride.
I also like cyberpunk motorcycles a lot, designed like little futuristic spaceships. And like it, because the post-apocalyptical atmosphere is something fascinates me.
The most iconic motorcycle for me is Keneda's in Akira. More a rocket than a bike but it represents so many things for me. I have a tattoo on my left arm. 
All we could see a structure with high-end components 🙂
Personal time
9. What does the Krax team do in spare time?
Krax Moto: Family first. And we share our love for the sport and outdoor activities with them and friends.
On the island I live now, there are mountains, ocean, grasslands, a volcano. It's a paradise for outdoor activities and nature!
My Hayabusa and RS250 are in France for now, so I find fun on wheels mostly with bicycles here. In a few weeks, I should receive some awesome e-bikes built in Germany and these e-bikes will bring some fun on the island.

The Team
Future
10. How do we Krax Moto five years down the line?
Krax Moto: So many things are changing in the world today and in the motorcycle area I would be curious to see Krax in 5 years. 
From some years, we will try more to stay open than to expand. However extraordinary things are on their way to develop Krax, and I'm confident.
At this hour the internet is an opportunity and a boxing ring, things change quickly, and it is a perpetual question.
If one day we have to close Krax, it won't be a defeat or a sad end. In 13 years it gave me a lot (except money hahaha).
I had the chance to meet builders and riders as I only saw them in the magazines. I met some awesome people and places and saw crazy motorcycles and parts. 
I had to give interviews. In very far countries, my work is shared, which I may never visit.
Ok, we also had a lot of painful moments, but it's a part of the work, and it helps to enjoy the good ones.
If you allow me, I would like to finish with a significant thought for my friend Antoine aka Artkore, wherever he is now. 
He has been a massive inspiration for me, and he gave me my first interview for his magazine Street Monsters, so today, more than ten years later, we have come full circle.
---
Read More
1200cc streetfighter from Moto Morini
Motaur the surreal motorcycle ad campaign by Progressive
Custom Ducati 750ss by Cedric Tenquir
Should you buy an electric motorcycle?
BMW brings the wonderful patent