News : Kawasaki H2R Vs Ducati Panigale V4R Speedometers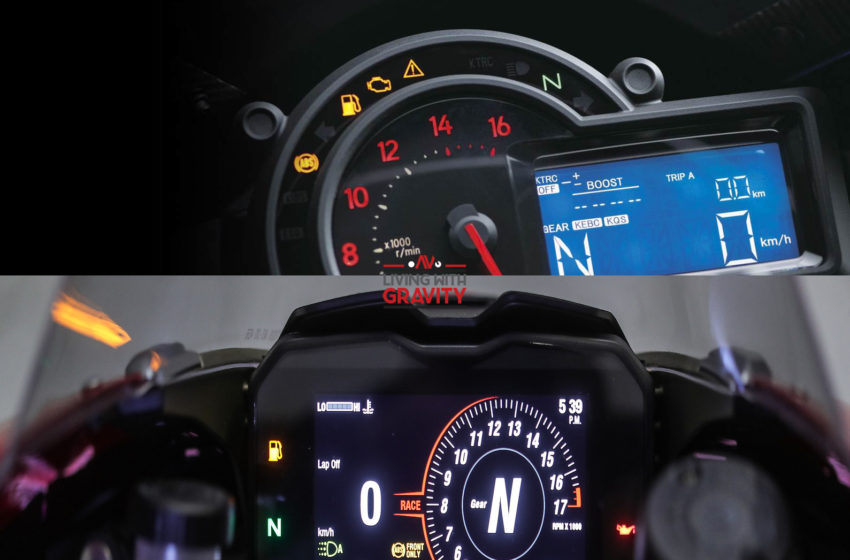 In this article comparing the speedos of two deadly speed demons.

Kawasaki H2R Speedometer 
Now depending on the rider preference, many of the
systems
on the bike can be
turned on
and turned off that gives rider the best riding experience on the bike.
High speed acceleration and potential also provides the extra degree
of rider reassurance.
The high tech speedometer design is similar to that of 
a jet fighter aircraft. At the rider's fingertips are all the handle control switches 
LCD Speedo is designed in a way that has both analogue and
electronic
tachometer.The best part is the LCD screen uses a reverse display that is it has black background with white characters on it that provides high grade image to view.The display functions has
Indicator for Gear position
Odometer
Mileage
Trip Meters
Average Mileage
Fuel Consumption
Coolant Temperature
Boost Indicator
Boost Temperature
Stopwatch ( Lap Timer)
Clock and
Economical Riding Indicator
Tachometer design uses an actual needle, but the black dial "face" looks blank

until the engine speed increases. Backlit rpm numbers light up to chase the

tachometer needle as it moves around the dial.


Compact new handle switch design allows all instrument functions to be

controlled from the handles.



Ducati Panigale V4R Speedometer
Unlike H2R the new
Panigale
V4R doesnt have analogue speedo but the entire speedo is electronic that manages all riding phases  based on the use of the 6-axis
inertial platform
by Bosch (6D IMU – Inertial Measurement Unit).
The Pit Limiter makes its debut on the bike, limiting its speed when riding in the pit lane.The display
functions
has
Indicator for Gear position
Odometer
Mileage
Trip Meters
Average Mileage
Fuel Consumption
Lapp off
Bosch Cornering ABS EVO
Ducati Traction Control EVO
Ducati Slide Control
Ducati Wheelie Control EVO
Ducati Power Launch,
Ducati Quick Shift up/down EVO,
Engine Brake Control EVO and 
Clock
---
Pic Courtesy : Kawasaki and Ducati