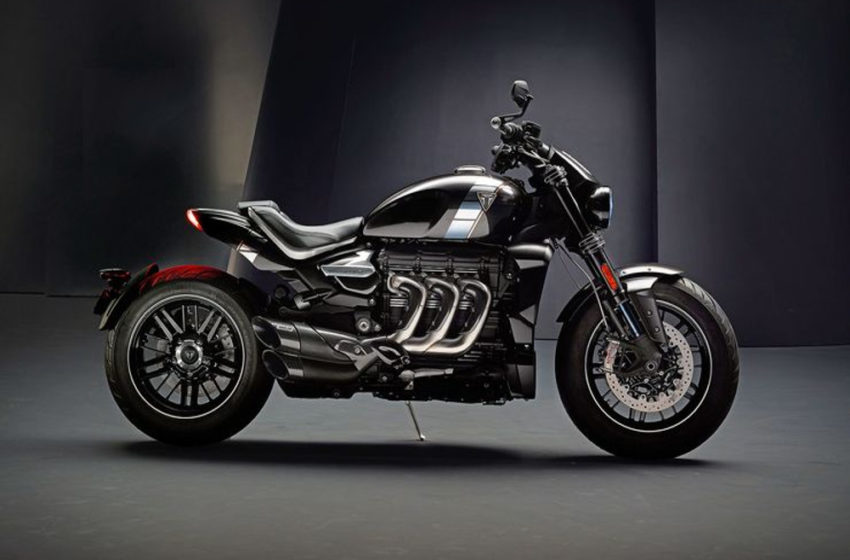 News : Triumph's upgraded Rocket III TFC is a innovative achievement
Back in October 2018 Triumph made the presentation about there plans on new Rocket.Also there were few leaked images that went viral.There were two bikes one was Rocket TFC Concept and the real Rocket III with TFC, supposedly differs very less from the the TFC Concept.
Redesigned Engine
The new Rocket gets all new 2,458 cc. three – cylinder engine and with a  bore-stroke ratio of 110.2 mm x 85.9 mm.The power is expected to be 170 hp and over 220 Nm of torque.The other good part is engine is longitudinally installed that makes it powerful in the production series also one the powerful Triumph engine till date.
Compared to old Rocket that delivered 148 hp and 221 nm of torque.The new three cylinder Triumph also gets various modes for riding with titanium intake valves and also comes with rider by wire technology.Other goodies that it gets is swing arm, carbon attachments, TFT multi-functional cockpit and swing arm.
Weight of the new Rocket should have drastically gone down by 40 kgs which is great achievement for Triumph engineers.
The old Rocket was massive 370 kgs on the weighing scale.
The swing arm gets help from Showa Monoshok that could be adjusted  with 107 mm travel and hydraulic spring preload on the new aluminum frame that is united with 170 hp powerful three cylinder engine as the engine becomes the soul of the entire new Triumph.
Exhaust
It gets the Arrow 3-in-1-in-3 stainless steel exhaust system that allows the new Triumph Rocket to emit the smoke.The 3-in-1-in-3 exhaust is also put on the Rocket in a way where in two openings are on the right side and one on the left.
Wheel/Tires
The 3.6-by-17-inch front wheel features 150/80 tires and is powered by a Showa 47-inch fork with cartridge system, adjustable compression and rebound, and 120mm of travel.
The 7.5 x 16 inch rear wheel conveys a 240/50 tire, is guided by an aluminum swing arm and can present itself so much more free.
Brakes/ Equipment/Seat/Stance/Paint Scheme
It gets intellectual equipment. At the front it gets Brembo double disk system with 320 discs, the rear gets four piston with 300 discs supported by ABS.The new Rocket also gets help from other equipment's like hill start assist, four drive modes (port, freely configurable,road and rain) and a shift assistant for clutch-less up-shifts and downshifts.
The aggressive lines with new 17 liter tank, more shallow handlebar and the front foot-pegs allow the rider to have a upright stance while riding the bike.The seat is more like a step seat and looks good with rich leather upholstery with a seat height of 773 mm. The pillion seat can be detached and removed.
It comes with limited paint scheme in Matt Carbon Black and Carbon Black with double coating, the aesthetics also include 3d brand emblem, brushed details.
Cockpit
Rider gets lots of options to choose between different display design
themes
and it also has user friendly functionality to customize the home screen.The cockpit gets full- color TFT instrument display that just looks amazing.
Additional features include USB charging socket, key-less ignition, tire pressure monitoring, cruise control and Bluetooth module that is optional.The idea is to get connected with Go Pro Cameras and Smartphones and other smart gadgets .

LED
LED is the acronym that Triumph has completely utilized whether its headlights or tail.The new Rocket comes with  full-daytime running light, LEDs are also used in the signals,  and license plate illumination Also the new carbon fiber parts are soothing to eyes. Muffler Caps, instrument display,
heel guard
, tank Strap and Front fenders are all carbon fiber made.
Availability/Price/ Limited Edition 
With 28,450 Euros as a price tag Rocket will be available from Jan 2020.With extra cost of 450 Euros you are also bound to get numbered plaque on the instrument holder, TFC leather backpack, personalized custom build book, certificate personally signed by Triumph CEO Nick Bloor. Only 750 Rocket TFCs will be made.So if you need one you may have to hurry.
---
Photos : Triumph