Our talk with Shaun Hutchinson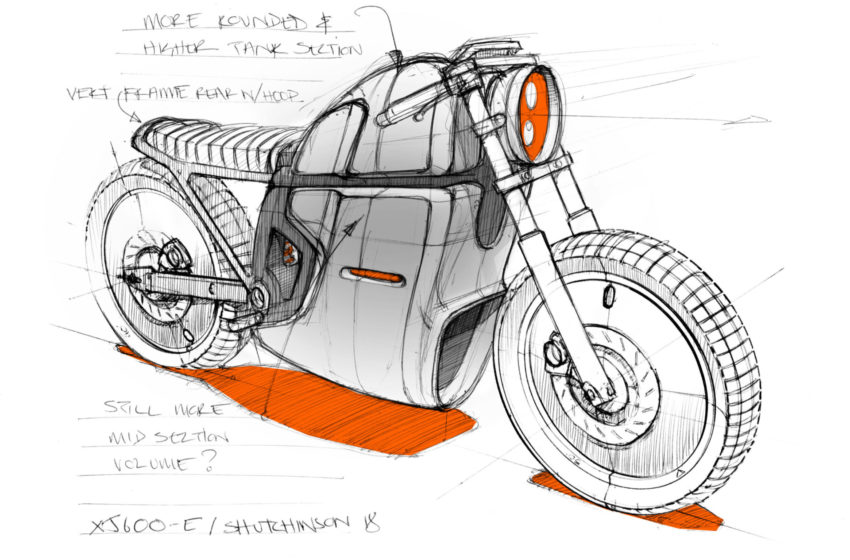 The global high-performance electric motorcycle market size is expected to post a CAGR of over 35% during 2020-2024, according to the latest market research report by Technavio.
As we move ahead and connect with more members from the electric motorcycle community across the globe to understand their views on electric motorcycle trends.
One such significant person we would like to talk about is Shaun Hutchinson and get to know more about him and his ambitious XJ600e project.
Here is our talk with Shaun.
Can you let us know a bit about yourself?
Shaun : I'm an Automotive and Transport Design academic from Coventry University's Faculty of Arts and Humanities.

Since my Master's degree at the Royal College of Art that focused on automotive exterior design, and my PhD that looked at automotive interior User Experience (UX) and Human Machine Interaction (HMI) design, my main interest has been with four wheels.

However, recently I have gained a keen interest in sustainable two wheeled vehicles. The small physical and carbon footprint of something such as an electric motorcycle makes perfect sense for tackling urban congestion.

Moreover, I think that out of a wide range of vehicles, motorcycles are the most sensorially intense in terms of human-centred interaction and UX with machine and environment.

As we move into a new era regarding powertrains the challenges are not only about physical interaction in terms of HMI but also cultural – I find this is extremely interesting.


Shaun working on his project
Do let us know about your upcoming project on the electric motorcycle?
The XJ600e project is part of a design study about sustainable electric two wheeled vehicles.

During trips back and forth to China since 2014 I have witnessed the growth of the Chinese electric motorcycle industry. This cannot go without comment when describing the background of the project.

China's ground-up approach took human powered and traditional Internal Combustion (IC) bikes and retrofitted them with simple hub motor battery set-ups to underpin part of their vehicular sustainability efforts at a small and large scale.

The eCUB from Shanghai Customs

and the Urban Series from

Evoke Motorcycles seem to be typical of this activity from my observations.

Thinking locally, personal reflections about the state of affairs in the UK – where we are yet to fully engage with electric motorbikes – raised the question: 'How would we handle a ground-up approach in the UK?'

This question in mind the XJ600e motorbike was initiated as a research design project. One of the outputs is a demonstrator that aimed to investigate this question through the process of building a motorcycle using a similar model to that used in China, while aiming to consider the current and potential marketplace and users within the UK who have different requirements.

Interim preliminary research that I have conducted about 'what people want from electric motorcycles' and a survey of over 400 riders with the Centre for Future Transport and Cities' National Transport Design Centre

, with the kind help of the

MotorCycle Industry Association, indicated a few things that served as underpinning principals for our concept of the electric motorcycle demonstrator.

There is a decline in IC motorcycle sales and the new generation (sometimes linked with this decline) seem uninterested in current offerings of the marketplace. However, they have a large interest in smaller and sustainable vehicles.

They have new values, ethics, and requirements because of their age, financial situation, and the environmentally conscious world that they have had to grow up in.

With an eye on these points, I have proposed a retro-fitted electric design re-using a registered 1991 Yamaha XJ600 motorbike with a focus on a sustainable circular design philosophy to give the vehicle a second life at a price that would be cheaper than a new vehicle, in recognition of the fact that many new generation riders will have lifetime debt.

The frame, forks, yolks, swingarm, caliper cases, wheels and shocks were all reconditioned or maintained to make a sound mechanical chassis.

Only worn or outdated parts such as tyres, bushes, lights, bearings, brakes systems, bolts and oil seals were replaced with new parts to ensure safety.

The propulsion system is also second life. Many used batteries are still good to use in designs that require less capacity and power, and this was the case with the Nissan Leaf lithium nickel cobalt manganese oxide (NMC) cells used in the XJ600e.

The prototype uses three of the NMC double module connected in series to provide a safe low voltage 48v power source. With an on-board 20A charger, two and a half hours will get the bike up to full charge to run the 8kw (12kw peak) rear hub motor to 50-60mph.

In terms of style, an understanding that UK consumers have high aesthetic values meant that the demonstrator needed to be produced like a well-considered and designed product rather than a collection of parts fused together in a workshop.

This in mind, the bike gives a nod to retro-modern trends such as Café Racer and BRAT bikes but is angularly styled with fairings that closely wrap around the electric powertrain.

Because of the reduced components this leaves a rather more minimal looking product aesthetic that is more likely to match next generation expectations, hopefully without being a massive turn-off to traditional riders.

The styling has undergone many changes throughout the project and will probably continue to be refined until a sweet spot is found through further design explorations and user clinics. 


What are the challenges that you had faced while building this motorcycle till date?
Shaun : Sourcing parts to maintain the second life emphasis was problematic at times. As the Yamaha XJ600 is near enough a 30 year old bike, OE parts and pattern replica parts were hard to track down at times. Various parts needed to be custom fabricated.

As with all new products that don't currently exist it can be hard to envisage how parts can fit together as a whole package, especially when retro fitment of new technology to an old frame is the goal.

As a solution I have had to use 3D scanning, CAD fabrication and Virtual Reality visualization to help assess proportion and component fitment. This cut out a lot of guess work. It has further allowed us to explore more options without the cost of physical prototype fabrication to date.

Also, as a designer, not an electrical engineer, getting to grips with the electric powertrain has been a challenge at times. I've had to learn a lot of new things.

Luckily, I've have had the enthusiastic support of a talented Engineering, Environment and Computing faculty student, Davis Kuma, who has helped develop the powertrain as part of his final major degree project.

Sophisticated and complex challenges of EV powertrains were also overcome with the friendly advice of collaborative experts such as Ian Goodman a Principal Fellow of Advanced Propulsion Systems at University of Warwick's, WMG (Warwick Manufacturing Group) facility.

As well as the close expert support of Dr. Oliver Curnick, a specialist in electrochemical power sources at the Centre for Advanced Low Carbon Propulsion Systems (C-ALPS) at Coventry University. Dr. Curnick is looking into second life battery usage with small projects like ours, as well as much larger projects with major manufacturers.

Finding a facility that combines this wide range of expertise – people who can use leading edge equipment and approaches to design and engineering – is often a challenge.

The Centre for Future Transport and Cities' National Transport Design Centre helped reduce these challenges, being a specialist centre and collaborative hub for developing innovative transport solutions with the user in mind using state of the art 2D and 3D visualization equipment.


One of the greatest challenge that electric motorcycle manufacturers face today is reducing the battery size and increasing the battery life. Do you think there is a way to do it?
Shaun : To give a well-considered and accurate response to this question Dr. Curnick was consulted. He felt that current electric motorcycles typically offer a range of between 50-200 miles, so you're right that there's still some way to go before batteries can match the 300+ mile range of petrol bikes. 

We expect to see incremental improvements in Li-ion battery system energy density during the next decade that might offer 10-20% more range, but to really challenge petrol we must look to new battery chemistries beyond Lithium-ion. 

However, if charging can be made more convenient than refuelling then it could be argued that range then becomes less important.

Durability-wise, state-of-the-art Lithium-ion batteries are already good for several thousand charge/discharge cycles, which is fine for most applications including electric motorcycles.

Electric cars have been on the road in significant numbers for nearly 10 years now and their batteries are generally holding up well.  There have been some recent breakthroughs on durability, too, which suggest that batteries lasting a million miles are not too far away.


According to you what are the most essential components in an electric motorcycle?
Shaun : The user! Performance, aesthetic design, ergonomic design and perceived quality are all factors that are dependent on the user.

If speed is necessary to the user, a bigger battery, motor powertrain and a more lightweight construction are essential.

If comfort is important to the user then a high quality seat and change of posture would take priority. If fashion and trend are important, then the 3-dimensional design of the faring panels, colour and texture as well as the style of frame must be considered.

What is critical about these cases is that the priority of these components is only critical if the user needs them.


How do you see electric motorcycles in the future?
Shaun : There will be a wider selection of types and styles. Very recently, Birmingham in the UK proposed a ban of personal vehicles in the city centre and other cities globally have planned to ban IC cars in the future to reduce carbon dioxide emissions.

These include Madrid, Oslo, London, Milan, Amsterdam, Berlin, and Frankfurt to mention a few, so electric motorbikes make perfect sense as a replacement for these vehicles.

Additionally, in some cities like Birmingham, UK, lower speed limits are being proposed. This in mind, the creation of more lightweight/medium speed electric motorcycles that fall into the category of 'Midweight Plus (WT4)/Medium-Speed (SP3)' as described in the recent SAE J3194 micromobilty taxonomy seems like a sensible idea.

This type of vehicle would have a kerb weight up to 227kg and a max speed of 30mph. Motorbikes such as Harley Davidson's scooter concept as well as SuperSoco's TC serve as interesting examples of such vehicles.

I think it would also be nice to see more diversity in motorcycle designs. Bikes such as Lit Motors Kubo (a cargo motorcycle) utilise a considerable advantage that electric motorcycles have as mentioned earlier; minimal mechanical architecture.

This leaves more space for storage, with more imaginative uses yet to be explored. There is an enormous amount of potential in this area.


While many manufacturers are trying to put their best foot forward by introducing electric motorcycles do you really see that kind of market?
Shaun : There has been an increase in the sales of e-bikes alongside a decline in IC motorcycles. Because of the predicted ban of IC engines, electric seems like a natural replacement.

Statista predict considerable growth in the e-bike market by 2025. Data from the Office of National Statistics and the Society of Motor Manufacturers and Traders has convinced retailers such as Halfords in the UK that they are likely to increase sales by 30% in 2020.

Looking on the heavier side of two wheeled vehicles, TechNavio expect the electric motorcycle industry to grow by nearly 42% by 2021. There is evidence that a marketplace for the electric motorcycle is emerging and growing.


How do you see yourself five years down the line?
Shaun : I enjoy academic practice and would like to conduct more motorcycle projects that look at exploring the potential of electric powertrains in terms of human interaction, aesthetics and general usage.

Coventry University is an ideal place to continue such research as it has a proud heritage of transport design.
Do check Shuan's work in the Gallery below.
---
Source : Shaun Hutchinson
Read More
Evoke expands Globally
Top 5 facts about new BMW e-Roadster
Information on Kawasaki's electric bike
Suzuki to develop electric scooter for Indian market