Spectacular BMW R 18 custom motorcycles from Canada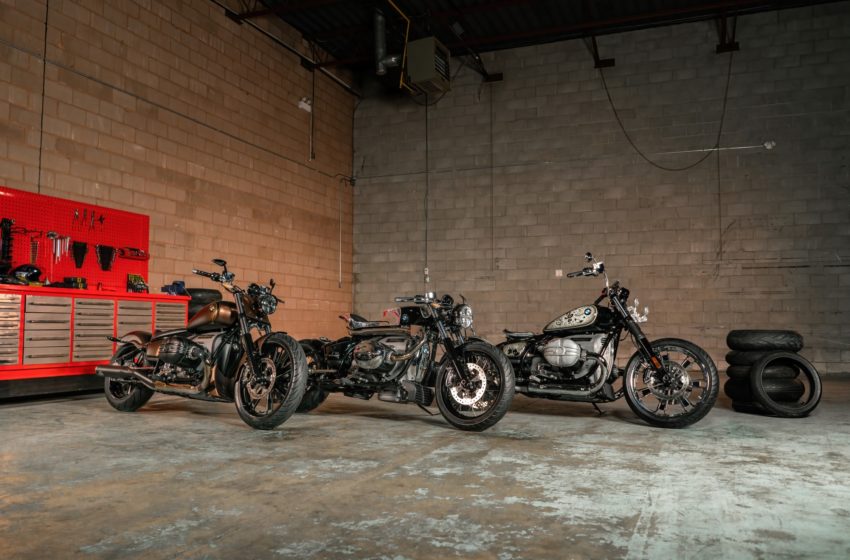 BMW Motorrad Canada has revealed the results of its first-ever motorcycle customization project. The company collaborated with three talented builders from across Canada. And given them each a new BMW R 18 as their canvas.
The selected builders are
Jay Donovan from Victoria, British Columbia,

Konquer Motorcycles from Kelowna, British Columbia and

Augment Motorworks from Toronto, Ontario.
Custom Projects
The builders revealed their bikes to BMW Motorrad Canada and Roland Stocker.BMW Motorrad Project Manager for the Heritage models. "These projects show how important it is to create bikes that inspire creativity. And act as a good base for owners and builders alike," said Roland Stocker.
Stocker, who was essentially involved in the development of the R 18, travelled to Canada for the reveal. He was not only impressed by the completed bikes but also by the builders themselves. "The vision, craftsmanship and quality of work were impressive. Especially considering how young some of the builders are," said Stocker. 
"I was very pleased with the result."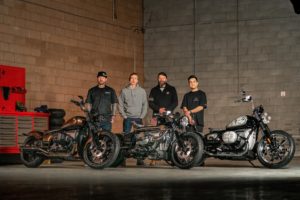 R 18 as Canvas
Due to its classic design and extravagant proportions. The R 18 serves as an ideal base for customization work. The centrepiece of the R 18 is its 1,802 cc, 2-cylinder "Big Boxer" engine. The most powerful 2-cylinder boxer engine ever used in a production motorcycle.
"We wanted to demonstrate the potential of the R 18 and designed a project to do just that," said Johann von Balluseck, Director of BMW Motorrad Canada.
"We chose builders that would approach this project in different ways. In hopes, they would give us three very different styles. And that's exactly what we got."
The only requirements for the builds were the custom bikes remain operational and road legal. This summer. The three motorcycles will be included in a national retailer tour, visiting locations across Canada.
Jay Donovan – R 18 Future Café.
The R 18 Future Café is a study in metal fabrication by artisan motorcycle builder Jay Donovan. Donovan's design began with a desire to reroute the exhaust up. And over the cylinder head and straight back, ending under the seat.
A fully redesigned tank and upper section in bare. Polished aluminium and chopped front and rear fenders in contrasting black make for a long and sleek look.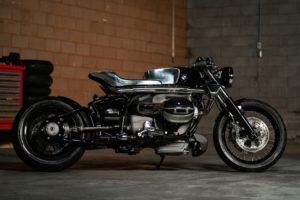 Augment Motorworks – R 18 Tattooed Chopper.
Nick Acosta from Augment Motorworks has applied the classic American chopper style to the big German boxer, nicknamed "El Boxeador." Fine, tattoo-themed paintwork paired with a sissy bar. Hand-carved headlight mount, mini ape hanger handlebars. Cocktail shaker exhaust and a custom seat, transform the bike into an instant classic with light-hearted touches.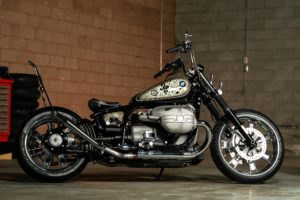 Konquer Motorcycles – R 18 Diamond Custom.
Rob Thiessen and his Konquer Motorcycles team took the R 18 and created a factory custom dragster. Bronze Metallic paintwork and pinstriping, modified front and rear fenders, a custom seat. And a diamond motif makes a low-and-long, factory-custom look. In addition, gold-painted BMW roundels and an electronically adjustable exhaust help tie the new look together.
via BMW Press