2021 Marvel Venom and Aprilia Tuono Concept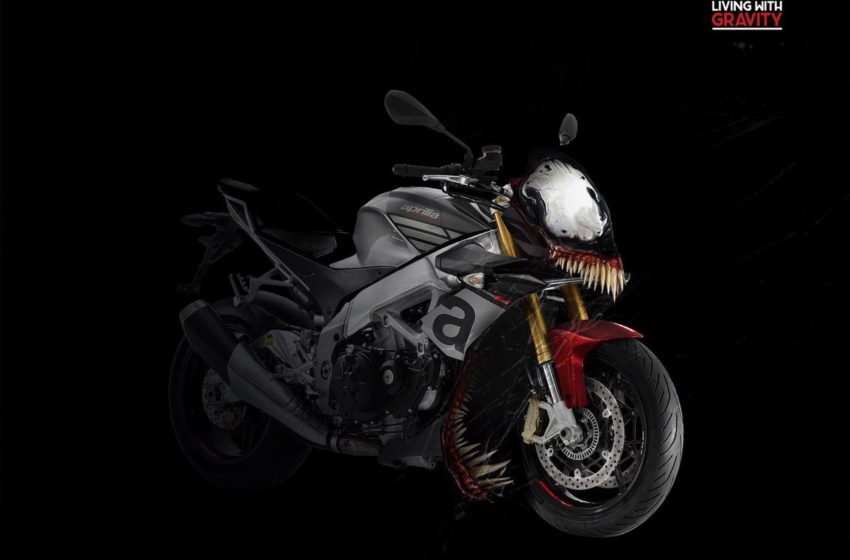 Less than a week ago the 2021 Tuono 660 patents are leaked.
Our friends from GPone had captured the footage and pictures of what we see as the 2021 Aprilia Tuono 1100 prototype.
And the test rider was none other than Lorenzo Savadori who was not able to spend his weekday August 12 somewhere else.
However, Aprilia requested Lorenzo to test the 2021 Tuono 1100 prototype.
The tests took place on the Italian, Imola circuit.
Salvadori claimed the lap in cool 1 minute and 50 seconds which is four seconds compared to the racing liveries.
The structure of 2021 Tuono 1100 clearly showed it had windscreen similar to RS-GP20.
What do we see more?
Well, no wonder the structure gets the carbon fibre to keep it light. 
Plus the inspiration is derived from the MotoGP liveries.
It leads us to say on the power front the 2021 Tuono can fetch 215 hp upwards and if we are correct.
It is a severe competition compared to other nakeds like the Kawasaki ZH2 which has 197 hp. 
While the MV Agusta carries cool 212 hp of peak power and a top speed of over 300 km/h.
On the other hand, Ducati's Streetfighter V4s claims 208 hp.
Aprilia too is going aggressive on building the new bikes and upgrading the ones already existing.
As of now the other details like its electronic package, chassis are still under the hood.
However, it is a matter of time as these details come out and we could see the 2021 Tuono 1100 in production.
2021 Marvel Venom Aprilia Tuono 1100 concept
In 2021 Aprilia will bring the upcoming Tuono 1100 on roads. Our idea was to combine the characteristics of Tuono with the forthcoming 2021 Marvel movie. Venom: Let there be carnage.
Marvels central character of movie Venom is an output of pungent displeasure between a human who is holding. 
And this grudge is mainly against the another Marvels' superhero Peter Parker who gets the sharp and deadly instincts from the spider.
Venom has some peculiar characteristics with blue eyes, blonde hairs, 175 lbs and is 5 foot 9 inches in height.
The trailer of Venom: Let there be carnage is already released.
Directed by Andry Serkis. The movie has stars like Tom Hardy, Woody Harrelson, Michelle Williams, Reid Scott and Naomie Harris.
Columbia Pictures in association with Marvel has produced the movie and Sony pictures releasing distributes it.
The movie will release on June 25, 2021 (United States).
Read More
Piaggio India brings Vespa and Aprilia BS-VI models
Upcoming Honda CBR400R release information
When do we see the Benelli 752's in India
Aprilia brings lower displacement enduro Terra 250
2021 Honda CBR600RR