Custom : Deus Ex Machina's "Bahama Ride"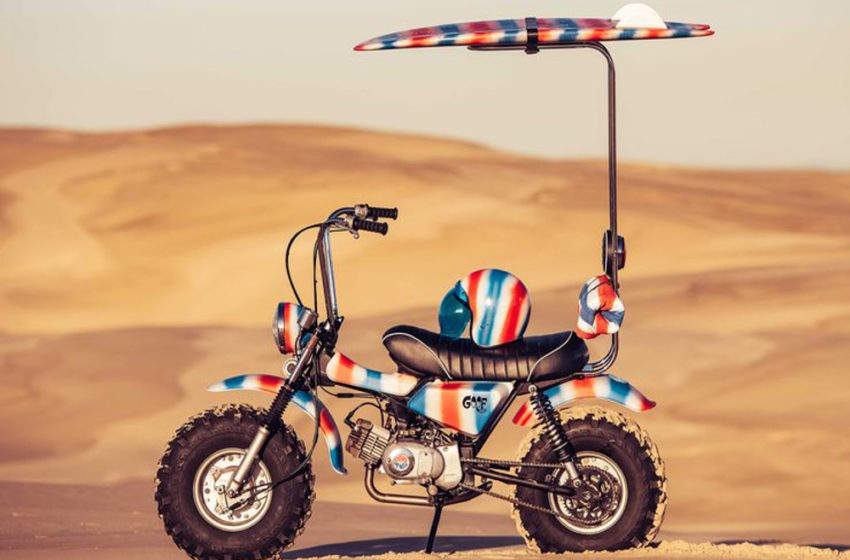 When on beach you need to have two drinks either" Bay Breeze " or " Blue Hawaiian " that brings the tropical taste to your tongue.
Bay Breeze has pineapple into the popular mix of vodka and cranberry and Blue Hawaiian has base of Rum mixed with pineapple juice and cream of coconut.
Now what has drinks to do with motorcycles. Well if you look at the new chic build by Deus Ex Machina called as " Goof Bike" you will understand why i am saying. The custom paint scheme exactly matches with the color of these two drinks. Hmm Intelligent right?
Oh well that is intelligent because Deus folks has build it for a beach, not that you can't take it elsewhere but yes Beach is one thing you ought to take it.
Performance was main thing that Deus folks had in mind and that was one reason they gave less focus on tuning the components as they were more interested to give it chic look where you can just sit and ride on the side roads of any beach.The result was quite astonishing with a look that is mix of chic and retro.
Even if it stands stationary you are tempt to ride it. Thats how it is built.The base model that Deus used is Suzuki RV 90 which incidentally is not that famous today compared to other models from manufactures.
First impressions are naughty a surfboard carrier on the riders head is something to look forward for.Again a neatly built helmet that exactly matches with the paint scheme and style of the bike. Towel is kept neatly at the back.
Ideally the bike that you use normally on the beaches are not fast and that might be one reason where Deus engineer's had opted for Suzuki RV with the 90 cc engine, capability to produce at least 6.3 hp. The large tires thus provide Suzuki's presence .
Handles are long enough to give rider a comfortable ride for long commute.Other thing if your eyes are attentive you wont find any indicators or turn signals on it.These days you wont find Suzuki RV 90 at any cheap price tag and Deus had decided not to sale this bike.
---
Photo Credits : Deus Ex Machina